Google has released the first stable version of its web browser Chrome for Android smartphone and tablets with several performance fixes. Chrome for Android brings some of the best features of desktop Chrome, including its speed and simplicity, search and navigate from the same box, incognito mode, tabbed interface and fast with accelerated page loading.
Chrome for Android is available on Android 4.0, Ice Cream Sandwich, or later devices. By comparing with the last beta release, this stable version does not have any new feature, except some fixes for stability and performance of the browser.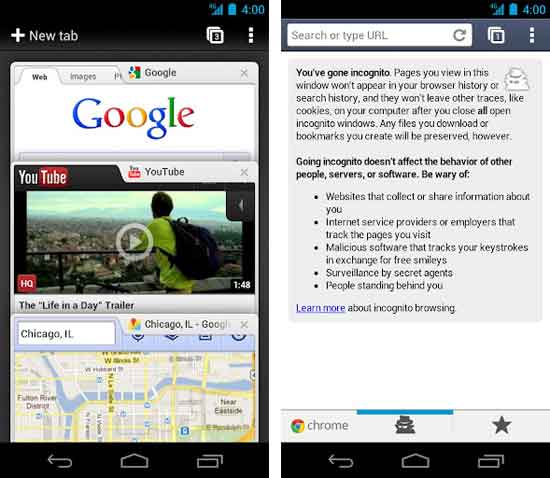 Below are some of the best features of Chrome for Android
Speed and simplicity – Pages load in a snap and hardware-accelerated page rendering lets you fly through long pages. Also, search and navigate fast, directly from the same box and quickly switch between an unlimited numbers of tabs.
Private browsing and security – The Incognito mode lets you browse the web without leaving your history or other traces behind on your device and it brings Chrome's multi-process architecture to complement Android's security framework.
Personalized Chrome experience – Sign in brings your open tabs, bookmarks and omnibox data from your computer to your phone or tablet with one click and read them on the go, even when you're offline.
Chrome for Android is available for download at Google Play Store.[via]