Looking for an easy solution to backup and sync your Android phone's data, such as contacts, messages, photos, music, video and other files with your PC? Then, you may like Android Sync Manager WiFi. If your PC and Android device on a same Wi-Fi network, you can very easily manage your phone's contents between your Windows PC and phone.
Android Sync Manager WiFi is a free application and very easy to handle – no complicated settings or configuration has needed. With it, you can backup, restore and sync your contacts, SMS, calendar, photos, video, music and other files. You can also save contents, for example photos, to your PC.
How to use Android Sync Manager WiFi
1. Download the free application to your computer and Android Sync Manager apk for your Android device (download link below). Install it on your PC and run it. Then install the apk on your phone and run it.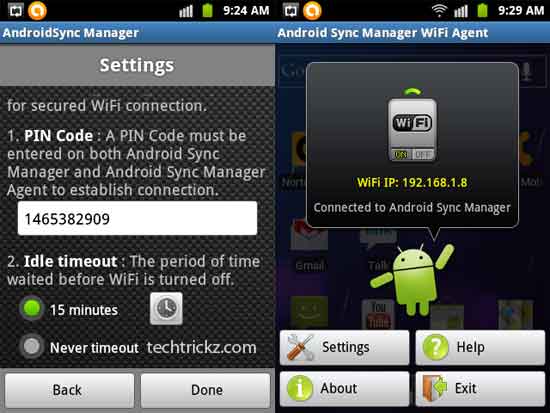 2. The phone will display a PIN Code that you need to enter on your desktop application (see screenshot above). For that, click 'Setting' on your desktop application, choose 'Connection' and then enter the PIN Code in the appropriate box.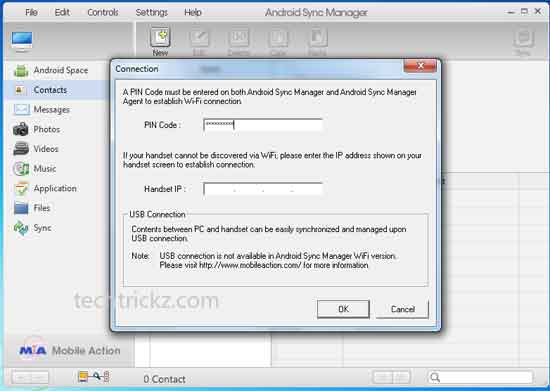 3. You may need to manually enter your phone's IP, if it is not detected (for that, on your phone go to Settings – Wireless and networks –WI-Fi settings – Advanced – IP address). Now, on your handset screen, verify whether connection between PC and handset is successfully established.
4. After successful connection, you can select which items need to be synced with your phone and PC (contacts, messages, photos, etc).
5. To backup and or restore your phone's contents, click 'File' – 'Backup or Restore' option (see screenshot) and follow the instruction.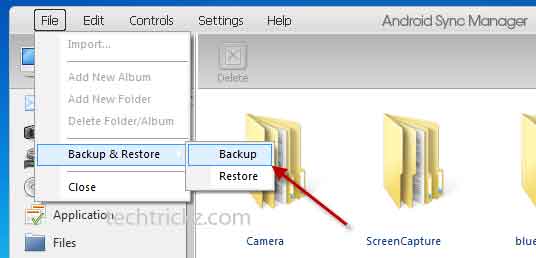 6. To save photos from your android phone to your PC, just select a photo (or complete photos) and choose the option 'Download to PC'.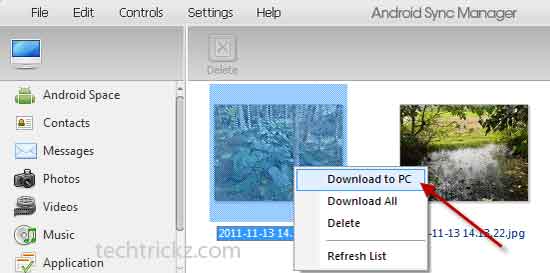 Verdict: After using the Android Sync Manager WiFi for a short time now, I liked it very much, because it is quite fast, simple and easy to use.
Interested readers can download Android Sync Manager WiFi at developer's website for free.