Adblock Plus, one of the best add-ons for desktop browsers that blocks annoying ads that interferes with your browsing on the web has released an Android version to helps you block annoying ads on your device when browsing the web and running apps. The best part of Adblock Plus for Android is that it requires no root access and works on all Android devices with little configurations.
According to the developer, Adblock Plus for Android can block all kinds of ads such as mobile ads, video advertising, banners, push notifications, display advertising and HTML5 advertising on your Android phone, however, based on filters, Android version and root permission.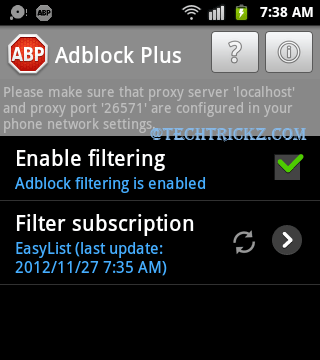 The first time you run Adblock Plus for Android, it will attempt to select the most suitable filter subscription for you. However, you can select any other filter subscription from provided list later by tapping "Filter Subscription" option from it's home screen.
Note that depending on Android version and root permission of your device, Adblock Plus for Android might have limited functionality on your device.
On rooted device, it'll block ads over Wi-Fi and 3G, on non-rooted with Android 4 (or later) blocks ads over Wi-Fi, and non-rooted with Android version 3 or earlier requires some manual configuration.
For example, if yours is a Gingerbread 2.3 non-rooted device, you have to configure the proxy settings manually. You have to set the proxy server to "localhost" and proxy port to "26571" from your phone's network settings.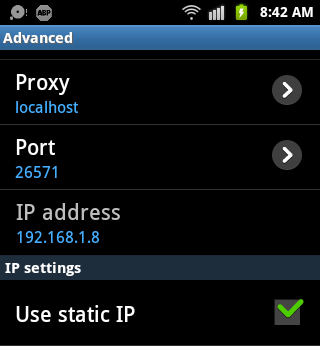 In addition, browsers such as Firefox does not support Android system proxy settings, Adblock Plus for Android will not work with it, unless your smartphone is rooted.
More details and download available at Play Store.