A Minimalistic Holo Themed Compass App for Android Smartphone
By Kannan on Jan 22, 2013
@techtrickz
As known by all, the compass is a simple tool usually used for getting direction. Your smartphone (Android or iPhone) can also be used as a compass to get direction by installing a compass app. If you search for compass app on Play Store or iTunes Store, you'll get several results and some claim to have superfluous functions. However, if you prefer a simple, but a functional compass app for your Android phone, you might like the Holo themed minimalistic Compass app.
Holo Compass is a simple compass app with Jelly Bean Holo theme. Its main interface is fresh and simple and you will get your direction at a glance. The big circle shows the current direction in degrees and the small blue circles indicate the current direction.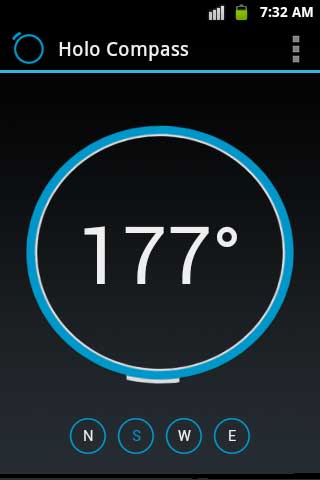 The Holo Compass also provides two color themes – black and white – that you can change from app's setting menu.
Note that this app relies on your phone's magnetometer, so accuracy may vary. For best result, you need to calibrate the magnetometer. For that, run Holo Compass app, hold your phone on your hand and move your hand just as you write the number 8 few times.
Holo Compass app can be downloaded from Play Store for free.
Kannan
is a computer and Android enthusiast, a blogger by passion and a tech freak. His always ready-to-help attitude, knowledge and hard work is what drives him.
Latest Updates

Kannan | Jan 28, 2015

Samsung Galaxy S3 mini will not get the Android 5.0 Lollipop update officially, however you can enjoy the latest Android OS on it is by installing AOSP based ROMs...

Advertisement

Find us on Google +

Find Us On Facebook

How to Guide
Gadget & Mobile

Internet & Browser

Security Tips
Copyright © 2015.The content is copyrighted and may not be reproduced on other websites. Techtrickz.com is not affiliated with any of the device manufacturers listed on this site. All trademarks and images are the identity of respective firm. Use of these trademark and images are subject to their permission.