Watch WebM Videos in Internet Explorer 9 With Google WebM for IE9 Plug-in
By Kannan on Mar 16, 2011
@techtrickz
As you all know, Internet Explorer 9 (IE9) officially released by Microsoft with many fresh features, but unfortunately, it does not support WebM videos. IE 9 requires additional plug-in to play these high quality videos.
To help you, Google has released WebM for IE9 plug-in to watch WebM videos in Internet Explorer 9 on Windows 7 and Vista. If you are an IE9 user and want to watch WebM YouTube videos, just download and install this plug-in from http://tools.google.com/dlpage/webmmf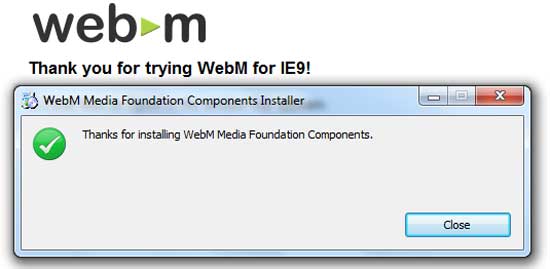 Note: This is a technology preview version, so it might not be stable. Here at my end, IE9 crashes while trying to play WebM video from YouTube.
Kannan
is a computer and Android enthusiast, a blogger by passion and a tech freak. His always ready-to-help attitude, knowledge and hard work is what drives him.
Latest Updates

Kannan | Jan 30, 2015

Keyboard app is an essential part of every smartphone. Without it, the phone is a useless device. However, sometimes your keyboard app stops working and shows "Unfortunately Android keyboard...

Advertisement

Find us on Google +

Find Us On Facebook

How to Guide
Gadget & Mobile

Internet & Browser

Security Tips
Copyright © 2015.The content is copyrighted and may not be reproduced on other websites. Techtrickz.com is not affiliated with any of the device manufacturers listed on this site. All trademarks and images are the identity of respective firm. Use of these trademark and images are subject to their permission.