Microsoft has Released Android App for SkyDrive
Microsoft's SkyDrive is one of the best online storage alternatives, but the absence of an Android app was a disappointment for Android users. However, now Microsoft has answered to this by releasing an Android app for SkyDrive. The features of Android version are more or less same that the iOS and Windows Phone versions offers.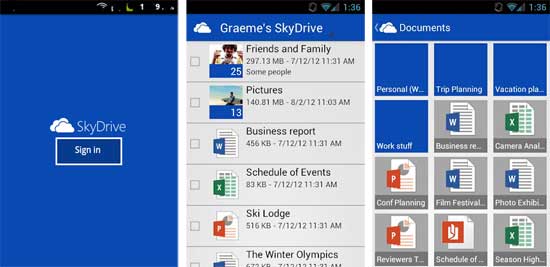 Since the application can access files stored in the cloud, it is very comfortable to use on the go. You can access and share files on the go, upload photos or videos from your android device to SkyDrive and you can manage and open your files on your Android app.
Features of SkyDrive for Android include: Access all of your SkyDrive content including files shared with you on the go, view recently used documents, choose multiple photos or videos to upload from your phone, share your files and photos, open your SkyDrive files in other Android apps and manage your files, etc.
SkyDrive for Android is available for Android 2.3 and above versions and can be downloaded from Play Store for free.