We had already covered few topics on changing Windows DNS settings (see it here/here) to open providers like Google or Open DNS for a faster and secure internet surfing.
Here is another freeware tool to point your DNS settings at the open providers such as Google DNS, Open DNS and Foole DNS.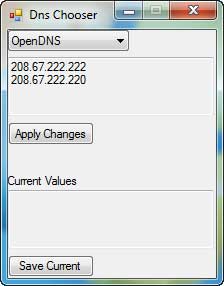 Of course changing your current DNS address is extremely simple from Internet Protocol (TCP/IP) setting, but this tool makes this even simple.
DNS Chooser is a portable tool and required .NET framework 3.5. You can download the tool from coders.