We are all want to taste latest features of Android operating system, but unfortunately, not all devices support latest version due to hardware limitations or manufactures will not provide the update due to some reasons. Therefore, the easiest way of keeping your phone fully up-to-date is through custom ROMs like CyanagenMod. Here is a cent percent working Jelly Bean 4.2.2 ROM for your Samsung Galaxy Ace S5830. This custom is based on CM10.1 custom ROM.
Samsung Galaxy Ace S5830 is an entry level Android smartphone. Its hardware specifications aren't capable for upgrading to latest Android OS Ice Cream Sandwich (Android 4.0.) or Jelly Bean (Android 4.2). But that don't stop Android developer to bring latest Android 4.2.2 Jelly Bean to Galaxy Ace S5830 users.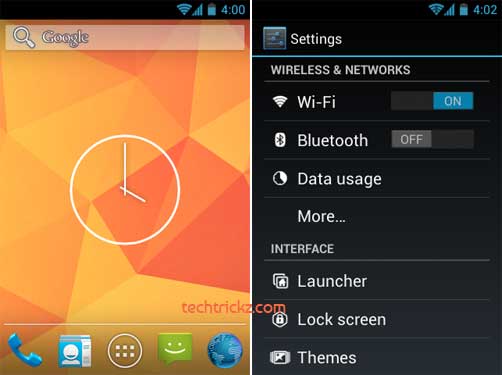 The developer Androidarmv6 has cooked Android 4.2 Jelly Bean custom ROM based on CyanagenMod 10.1 (CM10.1) for Samsung Galaxy Ace (GT-S5830) by dropping some Jelly Bean features.
I had successfully tested this custom ROM (beta 7) on my good old Galaxy Ace GT-S5830. It works without any problem, except few minor issues with Torch app and Compass app.
This unofficial CM10.1 build brings some Android 4.2.2 Jelly Bean features to users such as multi-user support, gesture typing, new quick settings option, lock-screen widget, new camera app, photo sphere, new daydream feature, etc.
How to upgrade Samsung Galaxy Ace (GT-S5830) to Android 4.2.2 Jelly Bean custom ROM.
Requirements:
It works only on Samsung Galaxy Ace (GT-S5830).
You device must be rooted and custom recovery (CWM) installed (read here to know how it is).
Android 4.2.2 Jelly Bean with CM10.1 based custom ROM (Download it from here)
Disclaimer: This guide is for advanced users only. We can't take responsibility for anything that goes wrong. As always, make sure you are fully backed up your device.
Important: Backup your contacts, SMS, etc. using Samsung Kies. Also, backup full system via custom recovery. Also, phone should be fully charged (at least 85%)
Procedure:
– Download Android 4.2.2 Jelly Bean ROM (beta 7, 93MB) to your PC and transfer it to your phone's SD card.
– Reboot your phone into custom recovery mode (open CWM and choose reboot into recovery, or press Power and Home button)
– Wipe Cache partition, wipe Dalvic cache and then wipe data/factory reset (use Vol up/down button for selection and Home button for apply).
– Choose "Install Zip from SD card", select the ROM you previously transferred to SD card and press Home button.
After a few minutes your system will be updated. Reboot your system. It'll take little long time (around 5 minutes) to boot in the first time. Enjoy!
Note: This unofficial CM10.1 build is under development and may contain bugs and issues. All issues will be resolved as development progress.
What works (Android 4.2.2 CM10.1 beta7 17.02.2013): GPS, Camera preview & taking pictures, Play Store, Gmail, Wi-Fi, Mobile data, Booting, Audio, HW accel, Touch (with multitouch), Sensors, USB mass storage, Telephony, Bluetooth, Camera recording.
Known bugs: Audio routing issue: in some cases audio routes to handset instead of headset, Secure Wi-Fi AP and Compass.
If you have any question, please use the comment section below. Don't contact directly. (Via – XDA)