Microsoft has made Windows 8.1 'easier' to use for desktop and laptop users by adding several desktop friendly features through its new update KB2919355. Now you can close Metro-styled full-screen app just like any other desktop application (added a close button), bypasses the touch focussed start screen entirely, pin any metro apps to taskbar, added a direct shutdown option to the start screen and more.
Of course, this update should make it easier to use the operating system on your desktop or laptop. However, if you are using a touch-based PC and installed the new update, but are not satisfied with these new desktop friendly features, and want to remove the update, you can simply do that.
Unlike the previous 8.1 update, the new update is quite simple to remove from your system. The process is quite straightforward, however it is recommended to make a system restore point or system image back up from recovery option.
Instruction:
1. Press Win + R key to open Run command box. In the Run command box, type appwiz.cpl and then press the Enter key. Programs and Features window will open up.
2. Click "View installed updates" to see all installed updates. Scroll down to see all installed Windows Updates.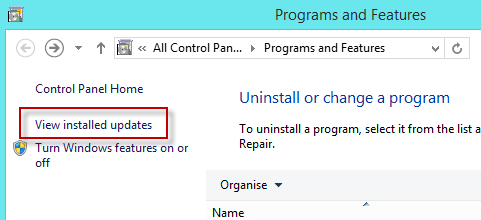 3. Under Microsoft Windows, look for an entry named Update for Microsoft Windows KB2919355.
4. Right-click the entry and then click "Uninstall" option. After uninstalling the update, restart your computer. That's it.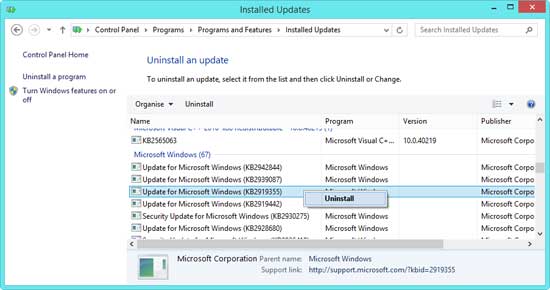 Please note that, you do not need to uninstall other updates that were installed as part of Windows 8.1 Update 1. Hope you will enjoy this post.