Turn Off Annoying Facebook Chat Alerts (How to)
Wish you could stop the annoying chat alert sound ('ding' like sound) that receives every time you send and receive IM on Facebook? Here I have a simple tip, which will help you to turn off the Facebook Chat alert sound.
How to turn off Facebook chat alerts
1. Login to your Facebook Account and locate the Chat window shown at bottom right corner. Click on it to open.

2. Now click the 'Setting Button' on the top right and unchecked the option "Chat Sounds" to disable the Facebook Chat Alerts.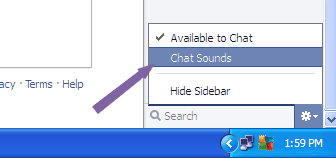 Note: If you want, you can disable chat completely. For that, uncheck the option 'Available to Chat'.