In Windows 8, if you are not properly close a running Metro app, it keeps running in the background until you close them manually and adds up to your system's memory consumption. By closing all running Metro apps, you can free up some memory. Here is how to close a running metro app properly and also how to delete its history from Switch List in Windows 8.
It is very easy to close a running metro app or apps that are running in the background in Windows 8. You have three methods to close a running app.
First method: If it is a running app, just click and drag it from the top edge of the screen to the bottom of the screen.
Second Method: If it is a background-running app (i.e. not in focus app), right click its thumbnail in the Switch List (hover your mouse at the top left of your metro screen to view Switch List) and select "Close" from the context menu.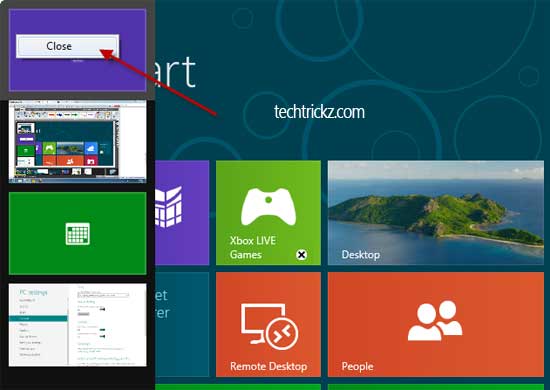 Third Method: Open task manger (Ctrl + Alt + Del) and under "Process" tab, right click the app that you want to close. Then select "End task".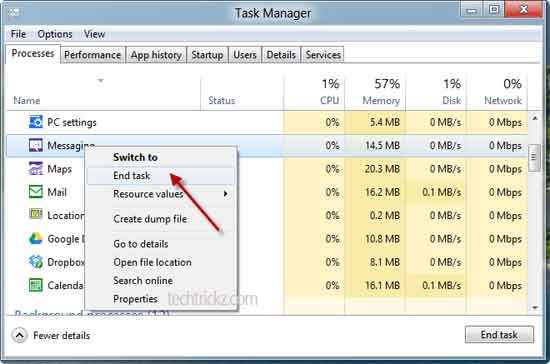 How to delete the history of running apps from the Switch List
Press Win + I key and select "More PC Settings". In the left pane, select "General" tab.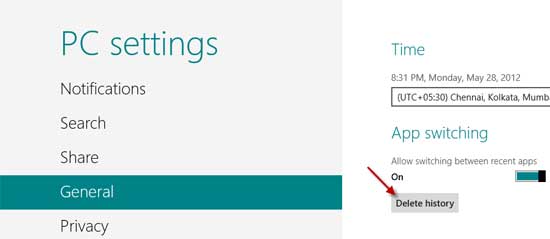 Then, under "App switching", click "Delete History" button to delete app history and clear the Switch List.