WhatsApp has added Google Drive backup feature to the client, which means it now lets you save your WhatsApp conversations, photos and videos to your cloud storage account Google Drive. This long awaited feature not only keeps your conversations safe, but it also saves valuable space on your phone.
As you might know, one of the main space-hogging apps on Android phone is WhatsApp. It stores all your conversations, images, audio files and video files on your Android device. Overtime it will takes up your storage space, which is a big annoyance, especially on phones with no SD card option. Now the Google Drive Backups option solves this annoyance.
WhatsApp's Google Drive Backups option saves all you conversations, videos, audio messages and photos to the cloud at fixed interval. You can change the backup frequency – daily, weekly or monthly as well as only when connected to Wi-Fi or also mobile data.
How to Save WhatsApp Conversations, Images and Videos to Google Drive
To save WhatsApp Conversations, images and videos to Google Drive, you need to update your WhatsApp to the version 2.12.45.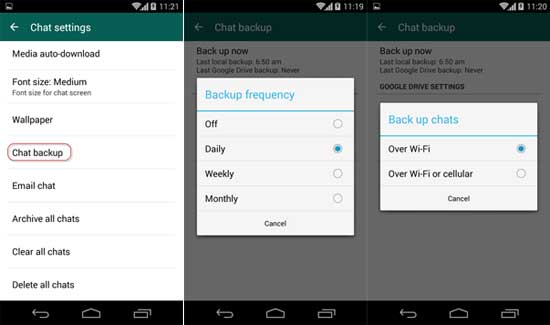 1. Download Whatsapp 2.12.45 APK [HERE] and install it.
2. Open WhatsApp -> Settings -> Chat settings -> Chat backup
3. Tap on the Google Drive Backup Settings
4. Log into your Gmail account
5. Choose the frequency of backups (Daily, Weekly or Monthly). Also, choose backup over Wi-Fi only or over Wi-Fi and cellular.
Once everything is done, tap on the "Backup Now" button to create your first backup.