Replace Bing Search with Google Search in Internet Explorer 10 Under Windows 8
Bing is the default search engine for Internet Explorer 10 in Windows 8. Like Chrome or Firefox, Internet Explorer 10 does not have a straight option to change the default search engine Bing. If you would like to search using Google (or any other search engine) instead of Bing on IE10, here is how to replace Bing search with Google or other search. It'll change the default search engine of both Metro and desktop versions of Internet Explorer 10.
Of course, you can download and install Chrome or Firefox on your Windows 8, however, note that Windows RT doesn't support third-party browsers.

– Run IE10 from your Windows 8 desktop. Click on the down arrow in the search box and then click "add" option (see screenshot above).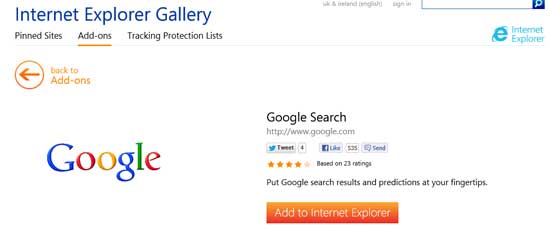 – Find your preferred search engine on the IE gallery page that appears, for example, Google or search engine like DuckDuckGo and then click "Add to Internet Explore" button.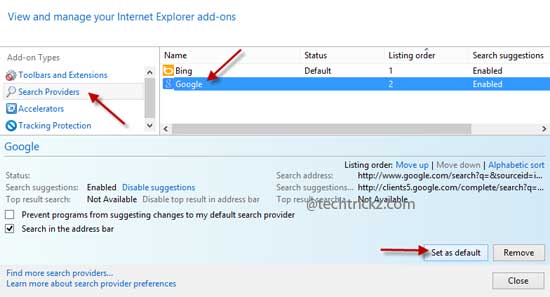 – Now, restart IE10, and then click the gear icon (menu) and select Manage add-ons. In the Mange add-on window, select "Search Providers" option.
– From the list, select Google (or any other) and click "Set as default" option. Then restart your browser.
Google (or the search engine you chose) will now be your default search engine in both Metro Internet Explorer 10 and desktop version of IE10.
Note: to delete Google or any other Search engine from IE10, go to mange add-on window, select Bing from the list, and make it default, then remove the other search engine.