I have been using Windows 8 since the first release of Developer Preview and now switched to RTM version of this new operating system. Like me, if you have installed Windows 8 more than a few times and in different account names for testing, your Windows 8 App Store will also keep all those of your accounts. Since some of these accounts are testing accounts, you can safely remove them from your Windows 8 Store. Here is how it is.
To see all your account names and apps installed by each account, just follow as described. From Windows 8 Modern UI (Metro Start Screen) open Store App. In the Store, right click and choose "Your apps". Here you'll see all your apps and accounts.
To remove an old account, open Store app and press Win +C to open Charms bar. Then, click "Settings" and Choose "Accounts". It'll lists all your account names at the bottom of the page.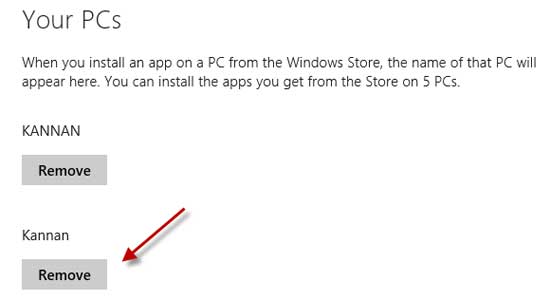 Now select the old account and then click "Remove" and confirm the action.
Important Note: Removing an account will also remove all your paid apps. You need to purchase them again to install.