Windows 8's built-in Internet Explorer 10 is definitely one of the best, standard compliant browsers available today on the planet. It provide users with a new, better experience when browsing the web on the Metro style IE 10. Ok that. However, for some reasons you may want to remove (turn off) Internet Explorer 10 (both desktop and metro versions of IE10) from your Windows 8 PC. Here is how it is.
How to turn off Internet Explorer 10 in Windows 8
On your keyboard, press Win + R to open the Run command box. In the Run command box, type "appwiz.cpl" (without quote) and hit Enter key.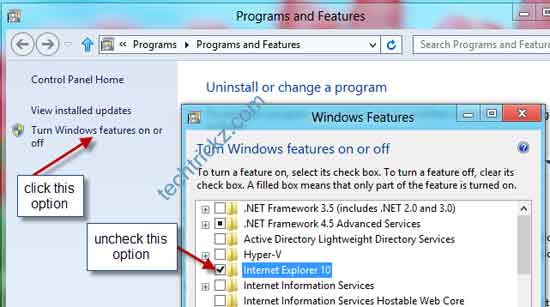 It'll open the "Program and Features" dialog box. Click on the option "Turn Windows Features on or off" on the left sidebar of the window. Then, locate Internet Explorer 10 and uncheck the box.
A warning dialog as shown below will appear. Click Yes to continue and then click Ok to restart your PC.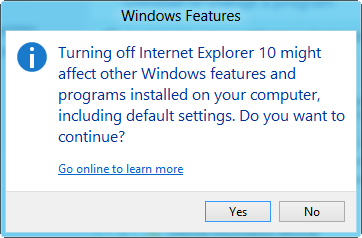 After rebooting your PC, Internet Explorer 10 (both desktop and metro versions) will be removed from your PC. To get back IE10 again, repeat the process, check the box against Internet Explorer 10 and then reboot your PC.
How to restore missing IE10 icon on Windows 8's Taskbar

If you're missing Internet Explorer 10 icon on your Taskbar, click Win + F key to open search box and start typing Internet Explorer in app section. It'll list IE 10. Right click on it and the click on "Pin to taskbar" option. That's all.