Android 6.0.1 Marshmallow update on AT&T Galaxy Note 5 brings updated TouchWiz UI with enhanced usability, new features like Doze (advanced power saving mode), personalized app permission, quick connect, enhanced fingerprint security, latest Android security patches and performance improvements. If you have any trouble updating via OTA (over the air), follow the instruction below to update manually.
In this tutorial, we show you how to manually install Android 6.0.1 Marshmallow update on AT&T Galaxy Note 5. However, before installing the update make sure that your device running on Android Lollipop build number N920AUCU2APB2. The below method update your Note 5 from Lollipop (build N920AUCU2APB2) to Marshmallow (build N920AUCU2BPE5)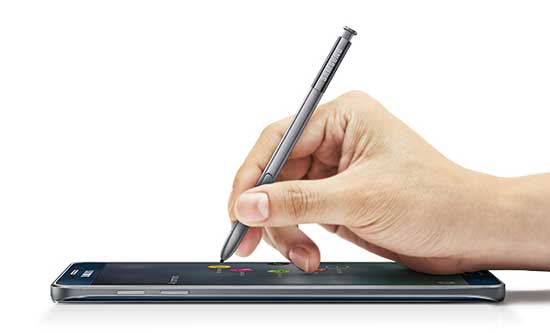 Before get start, check for Marshmallow update manually on your phone. To do so, head into the Settings, then About device and finally check for updates. Once you have received it, let it download and install. This is the simple and foolproof method to update your device to newer version of the OS.
Tech savvy users can follow the below guide to update their AT&T Galaxy Note 5 to Android 6.0.1 Marshmallow.
Install Marshmallow Update on AT&T Galaxy Note 5
Disclaimer: Follow the instruction at your own risk. We will not be liable if any damage occurs to your device and/or its components. Backup all data you have on the phone before proceeding.
1. Requires ADB and Fastboot drivers installed on your computer. Refer this guide for details.
2. Ensure your Note 5 is running on build number N920AUCU2APB2. If not, do not follow this guide.
3. Backup all data you have on your Note 5.
4. Download Marshmallow update for AT&T Galaxy Note 5 (1.4GB) [HERE]
5. Add .zip extension to the downloaded file. Now it should be "SS-G920AUCU3BOJ7-to-U3BOJ9-UP.zip". Save this zip file inside your ADB installation folder (C:\adb)
6. Now, boot your phone into recovery mode. To do so, shut down the phone, and then press Volume up, Home and Power buttons together.
7. You will see a green droid on the screen with the text 'Installing system update…'
8. Select 'Apply Update from ADB' option (use volume button to navigate and use power button for selection)
9. Connect your phone via USB to your computer
10. Go to ADB installation folder and open a command window there (press shift key, right click on an empty space and select 'open command window here')
11. Type the command adb devices (you should see your device listed)
12. Now, type the command adb sideload SS-N920AUCU2APB2-to-U2BPE5-UP.zip
13. It will take around 25 minutes to complete the installation process.
Once done, your phone will boot into Android Marshmallow. Any query? Leave it in the comment section below (Source – XDA)