Install Windows Store Apps from Windows 8 Desktop [How to]
Often we posts review on techtrickz on Windows 8's App store apps and provides link to the application's preview page for quick installation, but the problem is that when users click the link, they end up without finding an installation option. Unfortunately, searching for new apps across the App store can be a pain at times. Here is how to solve this issue.
If you have recently come across a nice app on a blog review and want to try it on your Windows 8 system, here is how to install it right from your Windows 8 desktop without going to Windows Store.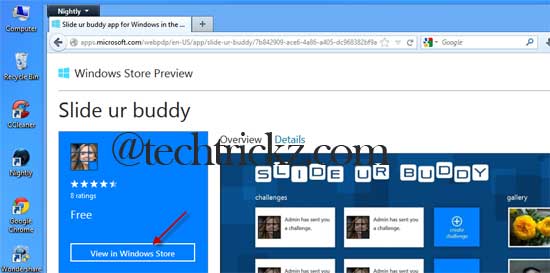 Open the app's link in Internet Explorer or Firefox (I couldn't find a way in Chrome and Opera). It'll takes you app's preview page.
Here, you will see "View in Windows Store" option. Simply click on this option to install the application. The app will open up directly in the Windows 8 Modern UI within the Windows Store. Firefox users may need to choose "TWINUI" on the popup window.
Like Google's Play Store and Apple's iTunes Store, the Windows App Store is also growing very fast with new applications and games each day. Therefore, it isn't uncommon that we'll come across with several Windows 8 apps in coming days. In that context, the above tips may helpful.