Stable version of CyanogenMod 12.1 custom ROM (unofficial) is now available for 2nd Gen Moto E 3G variant. If you are wishing to get the custom ROM that everyone is talking about on your Moto E 2015, checkout the installation procedure. Once installed, you can enjoy various Cyanogen features, plus Android 5.1.1 Lollipop on your 2nd Gen Moto E.
In this guide, we show you the installation procedure for CyanogenMod 12.1 custom ROM (unofficial) on 2nd Gen Moto E (also known as Moto E 2015) 3G variant (otus). A 4G variant of 2nd Gen Moto E (surnia) has also there, so confirm your device variant before installing the CM 12.1 ROM.
Also, before you get start, please note that this is an unofficial build of CyanogenMod 12.1 ROM, which means that it is not 100 per cent checked and safe. So, install at your own risk. We are not responsible for anything that goes wrong.
Note: This tutorial is going to assume that you are already pretty savvy with tweaking operating systems and that you have unlocked your Moto E 2015's bootloader, installed TWRP recovery and rooted
How to Install CyanogenMod 12.1 ROM on 2nd Gen Moto E 3G
Warning: Warning: Do NOT forget to back up your phone data. Also, follow the instruction at your own risk. We will not be liable if any damage occurs to your device and/or its components. Recommended for technically talented users only.
1. Download CyanogenMod 12.1 ROM zip file [HERE] and CM12.1 Gaaps zip file for Moto E 2nd Gen [HERE] and move both zip files to your phone's internal memory.
2. Now, boot your Moto E 2015 into TWRP recovery mode.
3. From recovery, select Wipe and wipe data, cache, dalvik cache and system.
4. Now, select Install and flash CM12.1ROM zip and then flash Gaaps zip file as well.
5. Once the installation process is completed, reboot your phone. You may need to wait for 5 – 10 mins for the first boot.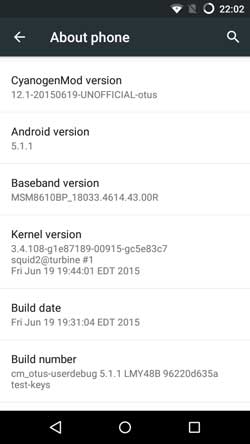 Note: After installing the CM12.1 ROM, if you are facing Gaaps issue, follow this guide to fix it. (Source – squid2)