Xiaomi Redmi Note 3, runs on Android Lollipop with Xiaomi's MIUI software layer on board, gives outstanding features and performance at a very affordable price. However, if you prefer stock Android UI rather than Xiaomi's MIUI for Redmi Note 3, then you will like Xiaomi 5.1.1 AOSP based custom ROM. The ROM is debloated, prerooted and fingerprint compatible.
In this tutorial, we show you how to install Xiaomi 5.1.1 AOSP based custom ROM on Redmi Note 3 with fingerprint support. This ROM brings stock Android UI instead of Xiaomi's MIUI. MIUI is a distinctly iOS-inspired OS built on Android. You do get the Play Store and other Google features, but there is no app drawer — something we hope to be seeing in Android 7 (Android N) later this year.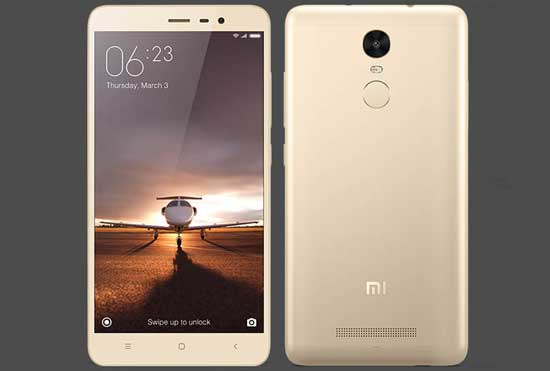 Before get start, note that the below given file supports Snapdragon variant Redmi Note 3 only (not for Mediatek variant). Also, you have unlocked bootloader, root access and TWRP custom recovery on Xiaomi Redmi Note 3 (read this guide for details).
Changes in this ROM (when compared to the originally leaked AOSP ROM)
– Overlapping No-SIM Symbol has been removed
– Redundant SPN Debug Overlays have been removed
– Debug Buttons have been removed from the Recent Apps View
– APK Signature Check has been disabled in the Framework
– Debug applications have been removed
– Fingerprint reader support has been added
– SuperSU (Free) has been pre-installed
– Gapps are bundled
– Xposed is bundled
– Default language / region has been changed to en-US
– Merged SIM Signal Bars
– Translated Fingerprint implementation into several languages
– logd is disabled (as to avoid sdcard logspam)
Install Xiaomi 5.1.1 AOSP ROM on Remdi Note 3
Disclaimer: This guide is for advanced users only. We will not take responsibility for anything that goes wrong. Also note that the below method only supports Redmi Note 3 Snapdragon variant only. Back up data you have on the phone before proceeding.
1. Download Xiaomi 5.1.1 AOSP ROM zip file for Redmi Note 3 (Kenzo) [HERE] [Source]. The ROM includes Gapps and it is pre-rooted.
2. Save the ROM zip file inside the internal memory of the phone.
3. Boot your Redmi Note 3 into TWRP recovery. To do so, open Update app on the phone, go to options and select Reboot to recovery.
4. In TWRP recovery, select Backup option to back up (Nandroid backup) your current ROM, so you can restore your stock ROM in future.
5. Now, go back to main menu, select Install, navigate to ROM zip file, swipe the screen when prompted to initiate the download.
[It is a good idea to keep your phone plugged in while doing this]
6. The flashing process takes a few minutes. Once done, reboot your phone.
Enjoy stock Android UI on your Redmi Note 3 will all features including fingerprint.(Source – XDA)
How to Restore your previous ROM
1. To revert back to your previous ROM and data, boot into TWRP recovery and tap the Restore button.
2. Now, select your Nandroid backup from the screen that opens.
3. Again, the process takes a good few minutes to complete, so keep your phone charged and wait until before your restart your phone.