An outstanding feature of Android 4 (Ice Cream Sandwich) and iPhone is App Folders. With it, just dragging apps and contacts on top of each other will create re-arrangeable folders. It helps users clutter free their home screen by grouping apps and contacts in a common folder. This is useful if you have lot of apps overloading your smartphone with endless pages. It not only clutter free your device's home screen but it also helps you quickly find apps and saves precious battery life.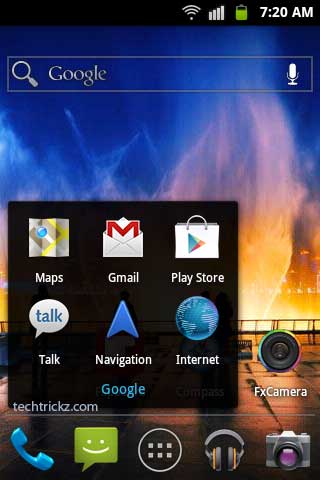 The topic here is how to have ICS like App Folder in older versions of Android phone. Before going to the topic, here is a simple method to organize your messed-up apps in your older versions of Android device without the App Folder.
Just tap the home screen and hold it to create a folder. Now name the folder by taping it, then just drag and drop apps in it.
To have a beautiful ICS like App folder on your older device, the best option is installing an ICS launcher app. Though, there are several ICS launcher available on Google Play Store, Holo launcher brings several ICS flavors to older android phone (android 2.2 and above) including App folder.
Install the Holo launcher from Google Play and configure it from its settings menu. To group apps, just drag app on top of each other. You can also rename this app folder by taping it.
If you are not like the launcher app, there are some apps specially designed to group apps as in ICS. For example, the App Folder that lets you customizes your home screen with folders like iPhone.