Google's instant messaging app with Smart Replies and Google Assistant integration 'Allo' is out. Allo features an 'Incognito' mode that offers 'private' conversations with expiry time and end-to-end encryption. 'Incognito' mode is one of the best features of Allo, especially for those who want to have a private chat. Read on to know to start an incognito chat in Allo.
In this guide, we show you how to start a private (Incognito) chat and set an expiry time for the conversation in Google Allo. Once you set an expiry time for a chat, you conversations will be deleted from your device after the expiry time, so prying eyes cannot see/read your chat or history.
How to Start Private (Incognito) chat and Set Expiry Time in Google Allo
1. Install Google Allo from Play store here, if you have not already installed.
2. Open Allo and tap on Chat button (messaging icon) shown at the bottom right of the screen
3. Tap on 'Start incognito chat' option
4. In the next screen, select a contact with which you start the private chat. You can select a person from the list or search using the search option.
5. Now, you are in Incognito chat mode.
6. By default, the expiry time is set to 1 hour. To change the expiry time, tap on the 'timer icon' shown at the top right of the screen.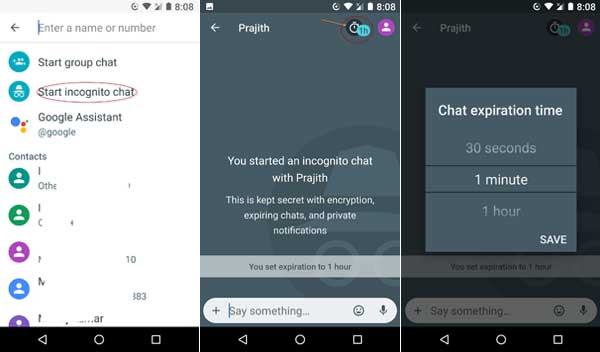 7. You can set expiry time from 5 seconds to indefinite. You can also select expiry time 'Off'
Note that the expiry time will not apply to all chats. It only applies individual text/media messages performed in incognito mode, which will be automatically deleted after the set time expired.