There are methods to speed up touchscreen gestures on Android phones, but a good number of them required root access. If you are not comfortable or familiar with root, there is a simple method to speed up gestures on your Android phone. The Super Touch app makes your phone super smooth on sliding, zooming and list scrolling gestures without you needing to have a root access, or really any, technical expertise.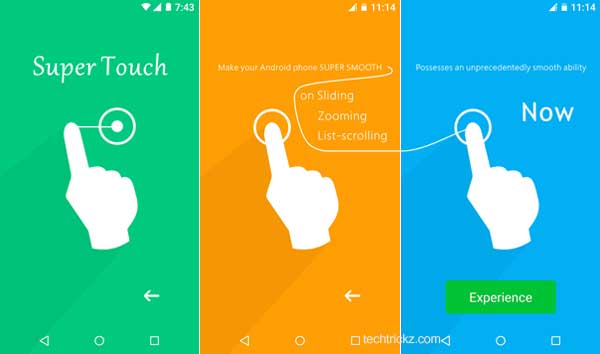 The Super Touch app is very simple to use though requires a little more attention while setting up the app. Once done, you will be able to swipe around your Android phone with the sort of speed and style you did not think was possible.
Read on to know how to speed up touchscreen gestures on your Android phone with this easy to use, free app Super Touch.
1. The Super Touch app is a free download on Play store. Download the app [HERE] and open it. You will be presented with a brief tutorial across a number of different screens.
2. Swipe through the tutorials and on the last screen tap on 'Experience' button. On the next screen, tap 'Advanced' option (at the bottom) and on the next window tap on 'General' option.
3. Now, you need to change the sensitivity of the gesture by adjusting the slider. It is set to 460 by default, but you can alter this by moving the slider. The free version lets you set 1 to 460 only.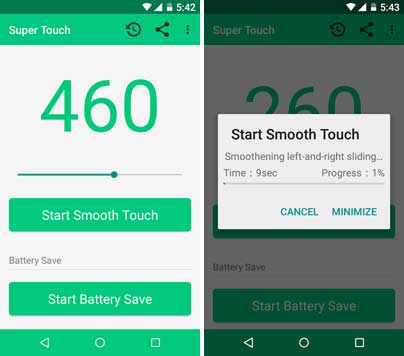 4. Once done adjusting the sensitivity, tap 'Start Smooth Touch' button and wait for the process to finish [Do not lock your screen when this is running, as it can interfere with what the app is trying to achieve].
5. Once the process has done, tap 'Start and Share' option (You do not actually have to share anything).
6. Once done, tap on 'Start battery saver' button. It will set it up automatically. Now you are ready to go.
Note: If you find the sensitivity setting is not powerful enough to actually make that much of a difference to your swipes and taps, adjust the slider and repeat the process.