A typical uninstallation using the Windows Add/Remove programs is insufficient for removing antivirus or anti-spyware software from a PC, especially with latest operating systems.
If you want to install a new antivirus/ anti-spyware software you should properly remove previously installed security software from the computer.
Here is how to remove Kaspersky Anti-Virus products (KAV/KIS 6/7/2009/2010) completely from a PC.
Download the appropriate uninstall utility from Kasperky lab at here. Unzip and run the utility .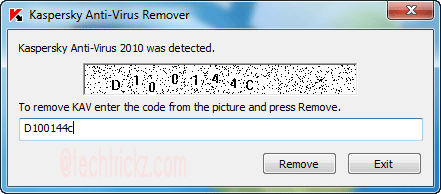 It will detect the antivirus. Enter the code from the picture and click Remove button (see above image). Wait until a dialog window informs you of successful product removal and click OK and restart the computer.
If the removal utility has not detected Kasperky antivirus, run the utility from the command prompt with the following syntax:
kavremover10.exe [kav6 | kav7 | kav2009 | kav2009x64| kav2010 | kav2010x64 | kis6 | kis7 | kis2009 | kis2009x64 | kis2010 | kis2010x64 | kav6fs | kav6wks].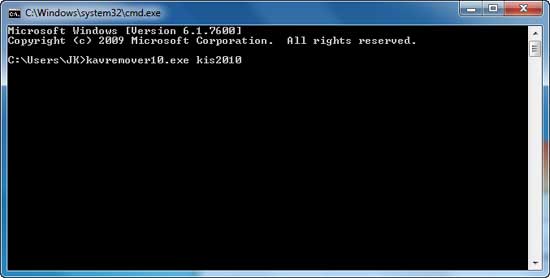 For example if Kaspersky Internet Security 2010 was installed on your PC in this case the command will look the following way kavremover10.exe kis2010 (see above image). Download KAV Remover