Samsung Galaxy smartphones, including the Galaxy S5 are known for too many bloatware apps (pre-installed apps) and if it is a carrier specific device, it will include bloatware from carriers as well. In this guide, we show you how to remove bloatware apps from Sprint and T-Mobile Galaxy S5, which will streamline and speed up your phone.
Many pre-installed apps (also called system apps) usually called bloatware apps, because many of them are not likely to be used by most users, instead they unnecessarily contribute to poor battery life and device performance degrades. It will also clog the app drawer. Unfortunately, the main problem with these system apps is that users cannot simply uninstall them like third-party apps without root access.
If you want to remove all the bloatware from T-Mobile (SM-G900T) and Sprint (SM-G900P) Galaxy S5, an Xda developer user muniz_ri, has created a tool to debloat T-Mobile and Sprint Galaxy S5. Read on to know how to use his debloat tool.
Muniz_ri's Debloat tool has three options: Light, Medium and Extreme. Light option removes only a few unnecessary apps. You can use a text editor to open the debloater.bat file to view/edit the lists of bloat apps.
How to Remove Bloatware Apps from Sprint & T-Mobile Galaxy S5
The below guide assumes that your device is rooted and ADB and Fastboot drivers installed on your computer.
1. Download Debloater for T-Mobile Galaxy S5 [HERE] [Source] and Sprint Galaxy S5 [HERE] [source]. Unzip the downloaded file and save the content the folder where ADB is installed.
2. Enable USB Debugging on your phone in Developer Options and connect it to your computer via USB cable.
3. Now, go to the ADB installation folder and double-click on the 'debloater.bat' file (you have just saved)
4. Grant root access when prompted on your device.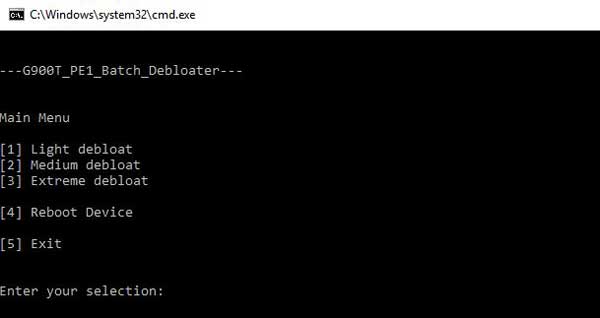 5. Now, select Light, Medium, or Extreme option and then press Enter.
6. Once the process finishes, press Enter and in the main menu select 'Reboot device' option, and then select Exit option.
Now you have debloated your Sprint and T-Mobile Galaxy S5. Any question? Leave it in the comment section below (Source – XDA)