As its name implies, Google Offline Search in Android lets you search on Google even when there is no active internet connection on your Android phone. This feature is very useful, particularly if you search a lot on Google, but your phone's data or Wi-Fi connection is shady. Read on to know how to perform Google offline search on your Android phone, how does the offline search works and how does Google shows the search result.
Google offline search on Android works when you search on Google and your phone goes offline. All your search queries are stored until a future event when internet access is available on your phone. In addition, when internet connection is available, you will be notified for the search result. Just swipe down the notification tray and tap on the notification to get your search result.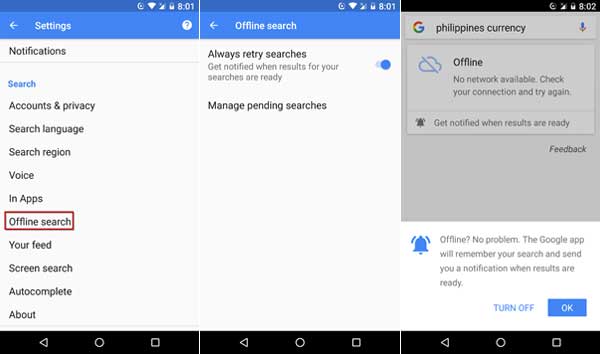 To work this feature on your Android phone, you need to enable the 'Offline search' feature in Google apps. To do so, open Google apps, tap on Settings, and then tap on 'Offline search' to enable it. In the next screen, enable the option 'Always retry searches'. Now you will be get notified when result for your searches are ready.
Now, to get notification for your search, you should disable the 'Data Saver' option for Google apps on your phone, if enabled it. Read on to know how it is.
To disable 'Data saver' for Google apps, go to Settings > Apps > Google Apps > Data Usage > and disable Background data option (for Android Nougat).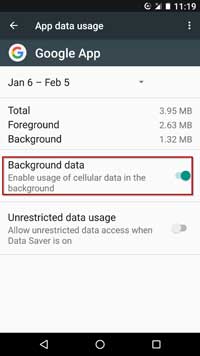 The bottom line: Google offline search is a useful feature for any users who have an unstable mobile data or Wi-Fi connection. When you perform a search if your internet connection is interrupted, Google will save your search queries and show to result when your smartphone is online.