Tethering is a useful feature, which lets you share your Android phone's internet connection with other devices via Wi-Fi, USB or Bluetooth. However, tethering will not be available on all devices. After updating your handset to Android 7.0 Nougat and found that Tethering is disabled or hidden, there is a simple workaround to enable it.
In this tutorial, we show you how to enable/unlock Tethering on Android 7.0 Nougat, if it is disabled or hidden – thanks to the XDA contributor tabormeister for the simple workaround. Though the tutorial requires temporary root access, you can unroot the device after enabling the tethering, so you can continue to use Android Pay and get OTA updates.
To enable Tethering on Android 7.0 Nougat, you need ADB and Fastboot driver setup on your computer, TWRP recovery and temporary root access on the phone.
Before proceeding with the below steps, make sure that 'Data Saver' function is disabled on your phone. If it is enabled, you will not be able to use Tethering. Pull down the Quick Settings menu to disable Data Saver.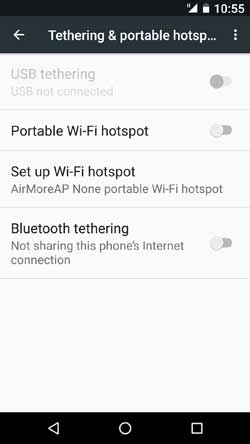 How to enable Tethering on Android 7.0 Nougat
Prerequisite:
a. Setup ADB and fastboot drivers on your PC [Guide]
b. Download TWRP recovery for your device [HERE]
c. Download stable version of Systemless SuperSU [HERE]
Instruction
1. Flash TWRP recovery image [Guide]
2. Flash Systemless SuperSU in TWRP recovery
3. While still in TWRP recovery, select Mount and check system. Make sure you allow changes.
4. Connect your phone to your PC and issue the below commands:
adb shell
echo "net.tethering.noprovisioning=true" >> /system/build.prop
adb reboot
5. Now, install Terminal Emulator app from the Play Store [HERE] and launch it.
6. In Terminal Emulator, enter below code one by one:
su
settings put global tether_dun_required 0
exit
7. Now, open SuperSu, scroll to the bottom and tap on Full unroot. You do not need to patch you back to the stock recovery. If it hangs, just reboot and try doing it again.
You have now unlocked tethering and being an unrooted device, you can continue to use Android Pay. And, to get OTA update on your Nexus phone, do the following.
1. Go to About Phone, scroll down, find your phone's build number and download factory image [HERE] corresponding to your phone.
2. Unzip the factory image, and save all the files inside the ADB installation folder.
3. Open a command window inside the ADB, flash boot, system, and recovery. You can now OTA with no problems. Repeat the same to get the new OTA. (Source – XDA)