The Moto 360 smartwatch comes preloaded with six digital watch faces that you can change as per your requirement. If you have bought the Moto 360 and do not how to change the default watch face on it, read the article below. Also, several watch faces are available on the Play Store that can also use in your Moto 360 smartwatch.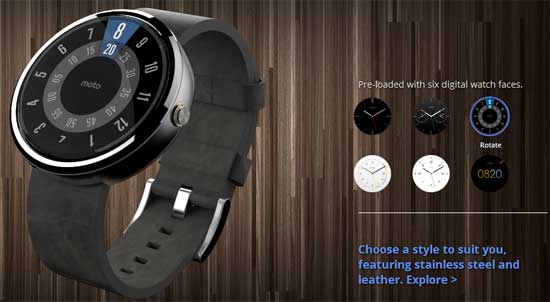 For your information, Motorola's Moto 360 smartwatch, which is running on Google's new Android Wear operating system, works as a companion for your Android phone (you can establish connection via Bluetooth). You can view all your notification (SMS, email, calls) on your wrist, get reminders, ask to get the info you need and more.
Key features of Moto 360 include classic wristwatch design, timely notification, voice search, fitness tracking (pedometer + heart rate monitor), sync with any Android phone (Android 4.3 and later), navigation, and more.
There are two ways to change the watch face on Moto 360.
First method: Activate the screen, and then tap on the screen to activate Google Now. Flip up to access the menu, scroll down and tap Settings. In settings menu, scroll down until you see 'change watch face', tap it and select your choice.
Second Method: Activate the screen, and then tap and hold above the visible card until your watch make a vibration. Watch faces should appear on the screen. Swipe left/right to see available watch faces. (source)