If you own a Moto X or Moto G 2015, you only need to chop twice to turn on/off the flashlight – no need to wake the phone, pull down the menu bar and tap the flashlight shortcut. You can enable this gesture from 'Moto Actions' app. If you find yourself using the flashlight as a torch more than most, this hand gesture is a very convenient option.
In this guide, we show you how to get Moto X's 'Chop twice for flashlight' feature on any phone without root. This feature lets you turn on/off the flashlight by just shaking your phone up and down. Though not exactly like Moto X 2014/2015 or Moto G 2015's chop twice for flashlight feature, the below method gives similar feature on any phone.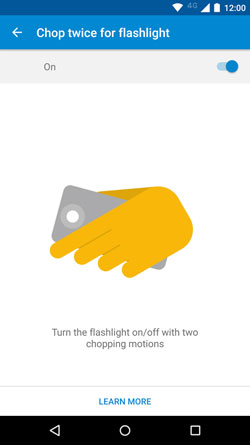 Flashlight LED Genius, which is a free download on Play Store, brings Moto X's 'Chop twice for flashlight' like feature on any Android phone, although this gesture will only work from the lockscren screen. That is you need to press the power button once to use the gesture to turn on/off the torch.
How to Get Moto X's Chop Twice for Flashlight Feature on any Phone
1. Installing and setting up 'Flashlight LED Genius' is quite simple. All you need to install the app (though it is a free app, it contains too many ads) from Play store [HERE]
2. To activate the shake to activate flashlight feature, run the app, pull up the tab from the bottom of the screen and then, turn on the switch.
3. If you want, you can set the shake sensitivity to interpret your shake gesture by sliding the bar left and right.
4. To test the shake gesture, press the power button to put the phone into stand-by, and then press the power button again to activate the lockscreen. Now shake your phone to on/off the flashlight. It should work.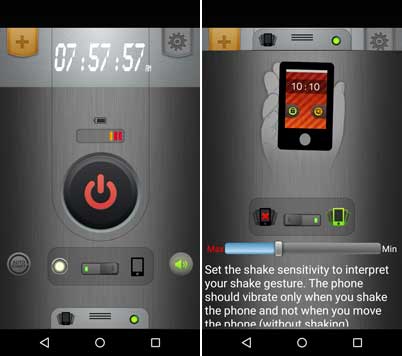 Flashlight LED Genius app is indeed a very good solution if you are looking for a simple and convenient way to turn on/off the flashlight on your phone to navigate through the dark, but too many ads killing the beauty of this app.