Samsung's newest device the Galaxy S6 Edge has a feature called 'Colored Notifications'. This feature helps users quickly identify a caller. I will explain it with an example. Users can assign different color for up to 5 favorite contacts. For instance, if you set the color blue to a contact and you receive a phone call from that contact, the edges of the phone will turn into the blue color.
Samsung Galaxy S6 Edge like 'Colored Notifications' can be implemented on all Android phones with a simple app called 'Edge Color Notifications'. Users can set color for each contact and if a contact calls, the borders of the phone will display the color you set. Cool idea isn't it!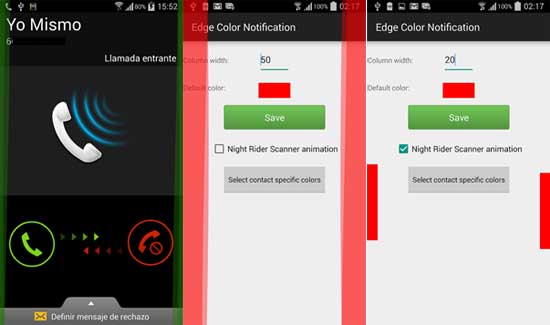 Developed by an XDA contributor forgin, the 'Edge Color Notifications' app currently only supports incoming calls. However, the developer has assured that contacts will be added in a near update. You can download the APK from XDA [HERE] or install it from Play store [HERE] on any Android 4.1+ devices.
Once you have installed the app, open it and you will see the option to change the size and the color of the border. Now, whenever someone calls you, the borders will change color, just like the Galaxy S6 Edge.
For your information, Galaxy S6 Edge and Galaxy S6 is the latest flagship from Samsung. Both have the same hardware specs (Exynos 7420 processor, Mali-T760 GPU, 3 GB RAM, 16 MP camera, etc.). The only difference is that Galaxy S6 Edge has a curved display both sides, which means, the edge of the screen can be used for several other purposes like the Colored Notifications.