Even if you have enough space, your Android phone sometimes shows 'insufficient storage available' error message when installing apps from Play store. There are various fixes, like uninstalling unnecessary apps, wiping app cache, deleting junk files, deleting Google Play update, etc. to solve the issue, but in certain situations these fixes will not help you to resolve the 'insufficient storage available' error.
In this tutorial, we show you how to fix the 'insufficient storage available' error message and you have enough space on your Android phone. Before applying the below fix, try the common fixes mentioned above, especially wiping system cache in recovery and deleting junk files. If the problem persists, the below method may help.
The problem is that, you uninstalled an app and try to reinstall it, but you get the insufficient storage available error message from Google Play. In this case, the below fix may help.
How to Fix Insufficient Storage Available Error on Android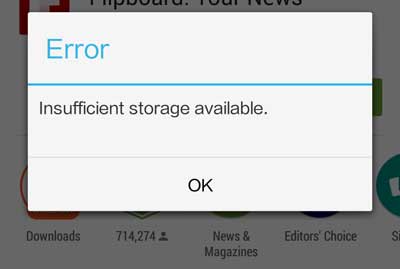 1. Install a file explorer, for example ES File Explorer, Root Explorer, etc.
2. Now you need to navigate to the data folder related to the app you are trying to install.
3. To do so, go to: sdcard0/storage/Android/data/com.xxxx.xxxxxx (com.xxxx.xxxxxx = the app you try to install)
4. Delete the folder com.xxxx.xxxxxx, then go to the Play store and install the app.
I hope this may help you to fix the error 'insufficient storage available' when installing an app from Play store.