To connect an Android phone or tablet with PC requires the matching device driver installed on the PC. As there are several brands of android phones and tablets available on the market, finding each one's proper device driver for PC sometimes becomes a big problem. However, here is a simple trick to obtain and download matching device drivers for almost all android phones available on the market.
I have tested and verified this method on Windows 7 with few android handsets and tablet. I am sure it should work with your devices also on Windows XP, 7 and 8.
Step 1: Download a free application called PdaNet (PdaNet is a tethering app that lets you share your Android phone's internet connection with your PC via USB cable).
Step 2: Disconnect your phone from your PC (if connected) and then start installing PdaNet on your PC. Continue the installation until you get a screen saying something like "Installing USB drivers".
(If you have previously installed drivers, it will ask you to uninstall that drivers and install using PdaNet. Click "Yes" to proceed)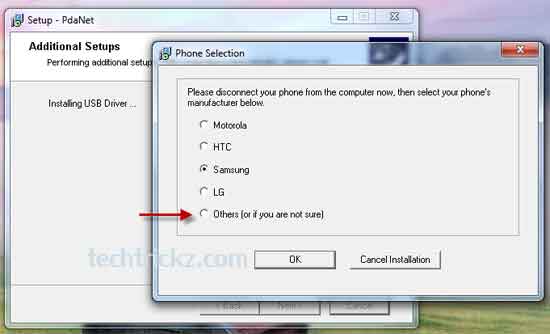 Step 3: On the popup window, select your device manufacturer. If your device name isn't listed (for example, brands like Micromax, Lava, Huawei, etc.) choose "Others" and then click OK.
Step 4: Now, a warning message will appear saying, "Windows couldn't verify the publisher of the software". Click "Install this Driver Software anyway" option (This warning may appear multiple times)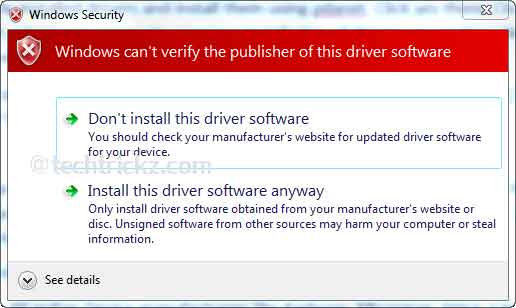 Step 5: PdaNet will ask you to connect your device to the computer. Connect your phone with your PC using a USB cable. It'll start installing drivers.
Warning: Do not enable any modes such as USB storage or tethering. Just let the driver installation complete.
Once the driver installation completes, you have successfully installed your device drivers. Now, if you want you can uninstall PdaNet from your PC.