A good charging habit is always required to extend your Android phone's battery lifespan. Battery lifespan can deteriorate if it has charged from 0 to 100% on a daily basis. The Battery Charge Limit app can help you extend your Android phone's battery lifespan by limiting battery charge. As its name implies, the app keep the battery charge go beyond the limit – say 90%, 80%, etc. It is said that by limiting charge to a lower capacity can extend the battery lifespan.
Read on to know how to extend your Android phone's battery lifespan with Battery Charge Limit app. Many people ruined their phone's battery life in a short time by employing bad charging practices. A good charging habit is to charge a little at a time. If you regularly charge your phone at 100%, it will reduce the lifespan of the battery. Read more about this here.
The Battery Charge Limit app helps on it. It limits the battery charge by 80% (default) or any value you set. Also, the app only works when you connect to a charger and automatically close after unplugging the charger, so the app will not affect your battery life.
Battery Charge Limit app requires root access on the phone to work. Before start note that app is not compatible with every device, but rooted users can try it and see if it works.
How to Use Battery Charge Limit app to limit battery charge
1. Download Battery Charge Limit app apk from source here (It requires root and Android 4.4 or up).
2. Install Battery Charge Limit apk on your phone (do not forget to enable Unknown Sources option in Security settings)
3. Launch the app, tap on 'Change' button and change the limit value (default value is 80%), if required.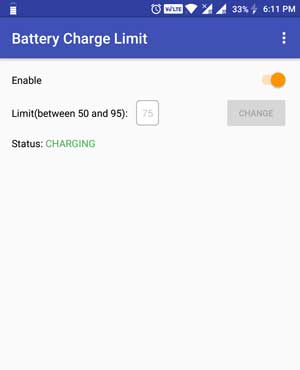 4. Now, toggle the Enable switch to On position. If ask SuperSU permission, just grant it.
5. Connect your phone to a charger and see whether it is charging or not. If charging, it means your device supports this app.
Note: If your device is not charging after enabling Battery Charge Limit app, you are unlucky. Disable the app and uninstall it. After uninstallation, reboot your phone. (Source – XDA)