An outstanding feature of Google Drive is the support for the third party apps. There are several apps already available for your different needs at Chrome Web store. For example, the popular online photo-editing app Aviary has launched an app for Google Drive that enables you to retouch your photo right from Google Drive. Here is how to install and use Aviary for Google Drive.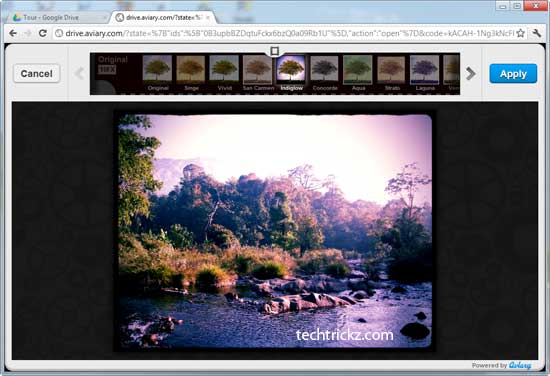 Aviary is a simple to use online photo editor. With it, you can enhance your photo in one click, apply retro effects, adjust brightness, contrast, saturation, sharpness, fix redeye, whiten teeth, erase blemishes, draw text, resize images and more.
To install Aviary for Google Drive, go here (link below this post) on your Chrome and install it. Launch the app and give grant access to use with Google Drive.

Then, just right click on any photo in your Google Drive and select Open With -Aviary for Google Drive.
The Aviary editor will open in a new window. Touchup your photo with Aviary editor and finally press 'Save' to apply your changes. Your photo will be updated in Google Drive.
Google Drive also saves previous versions of your photos, so you can always revert or compare your newest version with the original photo. Just right click and select Manage Revisions.
Aviary for Google Drive can be install from Chrome Web Store