Enable Automatic Logon and Disable Lock Screen in Windows 8 (How to)
Setting up an automatic logon will definitely weakens the security of your Windows 8 system, but if you intend to use Windows 8 in your home PC, then password protecting Windows logon isn't a big security concern, instead it adds only to annoyance each time you start your computer. Another annoyance of Windows 8 is its Lock screen. Each time you start Windows 8, you have to slide up to unlock the screen, which isn't also a compulsory feature for a home PC.
You can configure Windows 8 to automatically logon to your account at the start-up or you can only disable lock screen, if you like so.
Enable automatic logon in Windows 8
From Windows 8start screen, just type "netplwiz" (without quote) and then click the netplwiz app that displaying on the screen.
It'll launch "User Account" window. On this window, uncheck the option "Users must enter a user name and password to use this computer" and click Apply.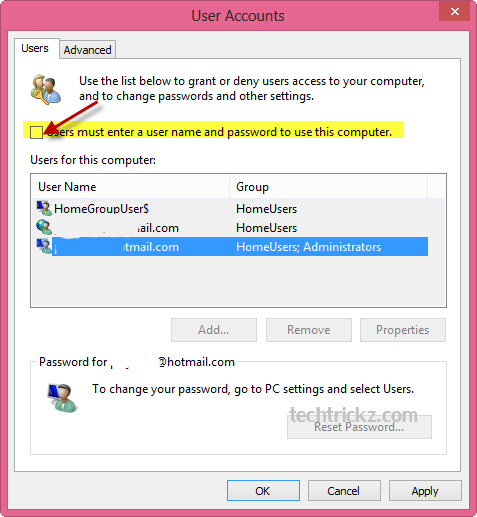 Now, you'll be asked to give your password, enter your current password, confirm and click OK. That's all. Just restart your PC to see the changes.
Disable Lock Screen in Windows 8
Click Win + R keys to launch Run command box and type "gpedit.msc" (without quote) in the box, then press Enter to open the Group Policy Editor.
Now, go to "Computer Configuration -> Administrative Templates -> Control Panel -> Personalization".
On the right pane, double-click on the item "Do not display the lock screen".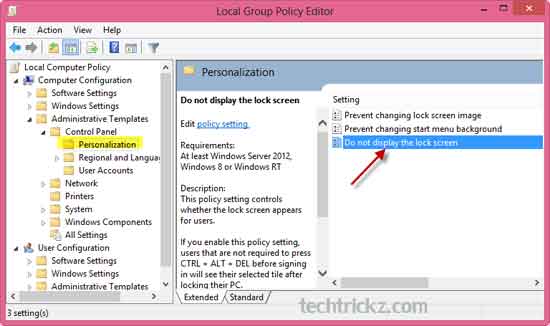 From the popup window, select "Enabled" option and click OK button. Then restart your PC, you would not see any lock screen.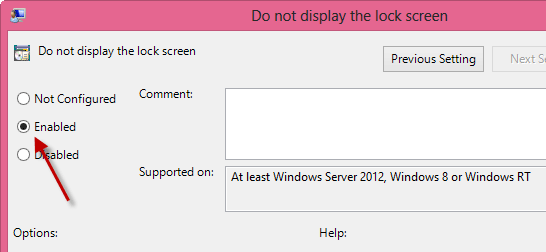 Note: To re-enable logon screen and lock screen, just reverse the above procedures.