In this guide, we will explain how to download Samsung stock firmware directly from Samsung servers for your Galaxy phone. You can install the firmware manually on your Galaxy phone via Odin, when in need. For example, if you have any difficulty updating your phone via OTA or Samsung Kies, or if it stuck in a bootloop, you can manually install the firmware on your phone.
There are various online sources are available for downloading Samsung stock firmware, like Sammobile, but finding a correct firmware for your region and phone model is a tricky job. The SamFirm tool created by an XDA user zxz0O0 answers this issue and lets you download latest firmware for your device without any fuss.
Before you get start, please note that the SamFirm tool is a Windows application that requires .NET Framework 3.5 (for Windows 7) installed on the computer to run. If not installed, download it from Microsoft and install it.
Important Note:
a) SamFirm tool only downloads latest firmware update for a particular model and region. You cannot download older version of the firmware using this tool.
b) The firmware downloaded by this method will not wipe your device; therefore, it does not erase the data on your phone while installing using Odin.
How to Download Stock Samsung Firmware using SamFirm
1. Download SamFirm tool [HERE] or [HERE] and extract the zip file on your PC (current version 3.4)
2. Open the extracted folder, and run the SamFirm.exe file (just double click, no installation is required)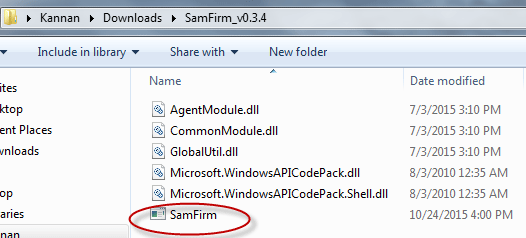 3. Check the box 'Auto', so that you can download the firmware for your phone by just specifying phone Model and Region code (CSC)
4. To know phone model and region code, install the app 'Phone INFO' [HERE] and tap on 'CSC CODE' tab to get the info. Once you get the information, enter them in to the respective boxes in SamFirm tool (see screenshot)
5. Now, check the boxes 'Check CRC32' and 'Decrypt automatically'. Also, make sure 'Binary Nature' is UNCHECKED.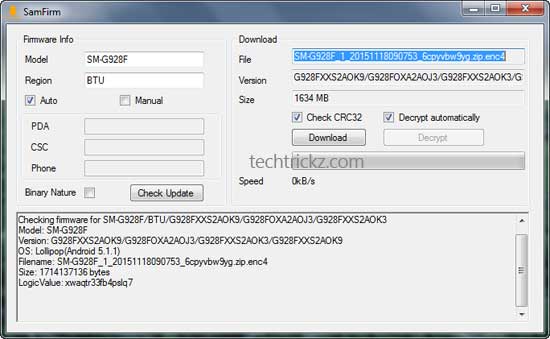 6. Now, to check which version of firmware is currently available for your phone, click 'Check Update' button and wait a few seconds
[If you see an error message instead of the firmware details, it means the firmware is not yet available on Samsung servers]
7. To download the firmware, click the 'Download' button and then select the folder on your PC where you want to save the file.
[The download time will vary depending on your internet connection speed; however, pause and resume functions are available]
Online Tools for downloading Samsung Firmware
There are a few online sources to download Samsung full firmware. Sammobile is a known source, but it requires sign up and also impose speed restriction for free download.
How to use Sammobile for downloading firmware?
1. Go here, enter your device model number
2. Select your region and download the required firmware
Updato.com is another and one of the best sources for downloading Samsung firmware. There are no registrations, no speed restrictions and no malicious ads.
How to use Update for downloading firmware?
1. Go here and enter the model number of your phone
2. You will see the latest update for your Samsung Android phone.
3. Hit the download button to download the firmware. Ensure your region and device variant before downloading the firmware.
Note: To download the Samsung firmware, you need your model number of your phone and region code. To know phone model and region code, install the app 'Phone INFO' from Play store and tap on 'CSC CODE' tab to get the info.
How to install the downloaded firmware on your Galaxy phone using Odin
Once the download process is completed, go to the folder where you have saved the package and extract the contents of the .zip present inside.
Then follow the instruction as given here [HERE] to install the firmware using Odin. The procedure is identical for almost all Samsung Galaxy series devices. (source – XDA)