The recently launched Google Pixel 2 phone comes with an updated 'Pixel Launcher 2' along with exquisite wallpaper collection, 'At A Glance' widget, bottom Google Search bar, Adaptive Icon support and more. Pixel Launcher 2 APK is now available for download that you can install unofficially on any phone runs Android Lollipop and up and experiences all the features now.
Pixel Launcher 2 offers a simple, but unique homescreen for your phone. The launcher supports Adaptive Icon, App shortcuts, Notification dots, etc. At A Glance widget and bottom Google Search box are the most noticeable changes in the updated launcher.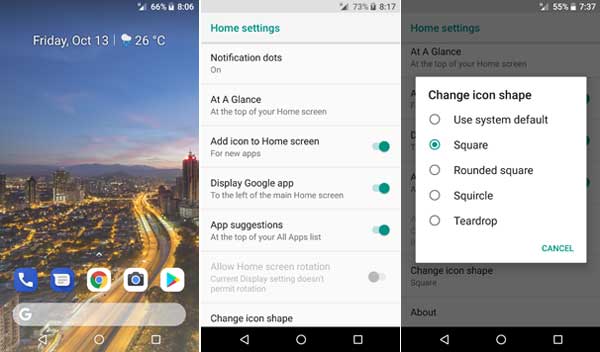 At A Glance widget displays your calendar events, weather details, day and month on the homescreen. To display weather details, you need to turn on location on your phone (Settings > Security & Location > Location). The widget will also display any event that's in your Calendar app.
Also Read: How to get Pixel 2 At A Glance widget on any phone
Pixel Launcher 2 APK (Pixel Launcher P-4275643) can be downloaded from APK Mirror [here] and install it on any phone (requires Android Lollipop and up). Do not forget to enable 'Unknown sources' option in phone settings menu to sideload the APK file.
In the launcher settings menu, you can change icon shapes (supported shapes include, system default, square, rounded square, squircle and teardrop), turn on/off notification dots, etc.
Also read: How to get Google Pixel launcher 2 on any Phone with Nova launcher
Keep in mind that not all features will available on all Android versions. Also note that on non-Pixel devices you'll need to install the launcher app (Pixel Launcher P-4275643) as a system app to get the Google Feed swiping from the left of the screen.