Download Facebook Photos Easily on Android
As you all know, videos and photos are the most shared post types on Facebook. If you use your smartphone for accessing Facebook and you wish to download photos or videos shared on Facebook on to your device, for instance, to view them in offline, it is not as easy as you did it on the computer. However, there are few ways to accomplish this on smartphones as well.
If you access Facebook on your Android Phone or tablets and wish to download Facebook photos to your device, the free app "Facebook Photo Downloader" helps you do it quite easily. You can download photos just with a click from any profile as long as their privacy settings make them accessible to you.
Note: If you wish to download Facebook videos, read my previous post on that.
Facebook Photo Downloader is a quite simple to use app. You can download photos just with two clicks right from your Facebook app. What is great with this app is that you don't need to leave the official Facebook app and no need to enter your Facebook account or password to download photos.
How to use Facebook Photo Downloader to download photos?
To get started, install the app from Play Store on your device. Open the Facebook app and then open any photo that you want to download.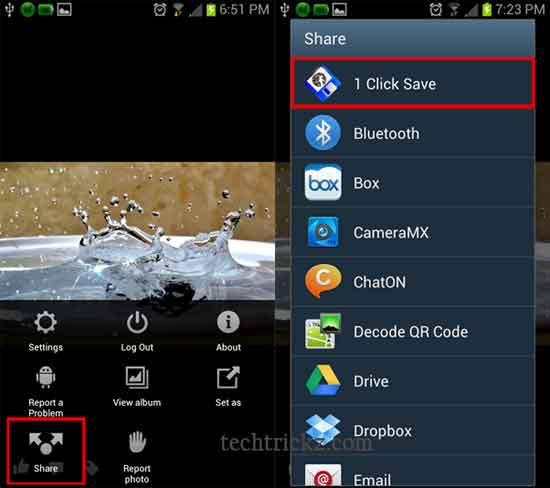 Next, tap the Share button from the menu and then tap '1Click Save'. The image will be saved to the internal storage of your device in a folder labeled "Facebook Pics". That's it.
As I said above, the app is dead simple to use. However, it doesn't have an option to download full Facebook albums. That is the only shortcoming of this app. The app is free and support Android 2.3 and later.
Install Facebook Photo Downloader from Play Store