Last week, HTC was paused the HTC 10 Android 7.0 Nougat update in Europe due to some technical issues. Now, the company confirmed that it would soon resume the HTC 10 Android 7.0 Nougat update in Europe. The new OTA update will reach in the coming days. However, early adopters can download and install the HTC 10 (Europe) Nougat update manually right now. If you are interested, check out the manual installation guide.
The step-by-step guide given below let you know how to download and install HTC 10 (Europe) Android 7.0 Nougat update manually (Europe). The manual installation process for HTC 10 Android 7.0 Nougat update is comparatively simple, but it will wipe your device completely. Backup all data (images, media files, call logs, SMS, etc.) before proceeding.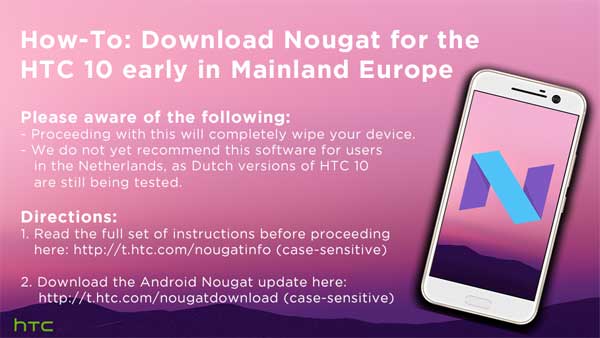 For manual installation, all you need a Windows computer, Nougat RUU.exe update files for HTC 10, HTC Sync Manager installed on your PC (for driver files) and a USB cable to connect your phone to your PC.
Note: Your HTC 10 should be running on software version 1.80.401.1 or later. The process will update the device to software version 2.41.401.3.
Important: Note that HTC does not recommend the firmware for Dutch HTC 10 owners.
How to Install Android 7.0 Nougat Update on HTC 10 Manually
Disclaimer: Follow the instruction at your own risk. We will not be liable if any damage occurs to your device and/or its components. It is recommended for technically talented users only.
1. Install HTC Sync Manager on your PC, if you have not it on the PC (Download)
2. Download HTC 10 Nougat RRU.exe update file from here (1.8GB) to your PC
3. On your HTC 10, go to 'Developer Options' and enable 'USB debugging', and then connect your device to the PC via a USB type3 cable.
4. Now, double click the RUU.exe file to launch the system update wizard.
5. Follow all of the system update wizard instructions shown on your PC.
6. Once the update is complete, click Finish in the Wizard and the device will reboot. Set up and enjoy. (Source)