Distorted Font and Hanging Issue in Office 2013, How to Fix it
Among dozens of new features and changes, support for GPU hardware acceleration is a remarkable feature of Microsoft's new Office 2013. Hardware Acceleration improves program performance by utilizing computer's graphics card (GPU) rather than relying on the process alone. However, sometimes it will cause for hanging and distorted font issue in Office 2013, especially on older computers. Here is how to disable GPU hardware acceleration in Office 2013 to fix this issue.
Hardware acceleration isn't a new thing. Almost all modern browsers now have hardware acceleration. If enabled this feature, the browser will transfer CPU intensive tasks such as video, games, etc.to GPU (graphics processor) to make everything smooth.
In Office 2013, hardware acceleration is enabled by default. So, here is how to disable hardware acceleration in Office 2013 to fix blurred font and program hanging issue.
– Open an Office 2013 program, for example Word 2013. From the start screen click on "blank document" option.
– Now click "File" menu and then click on "Options" from the left-sidebar of the program window.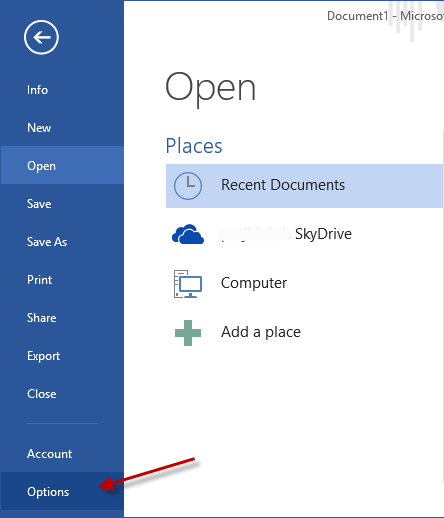 – Now, click on "Advanced" option and scroll down. Under "Display" section, locate the two options
"Disable hardware graphics acceleration" and "Use subpixel positioning to smooth fonts on screen".
– Check the checkbox against "Disable hardware graphics acceleration" and click OK to save the settings. Restart Office and it should fix the problem.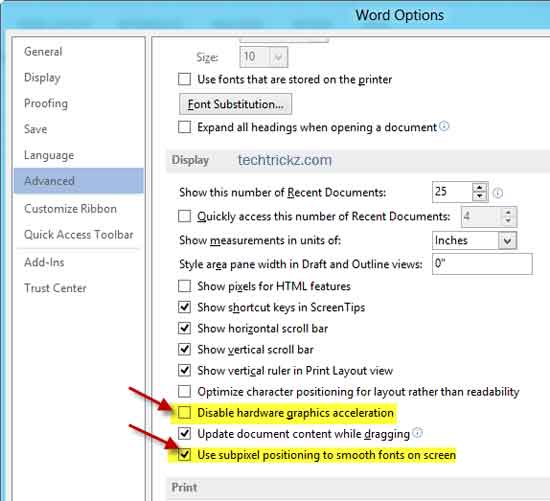 If the problem still persist, try to disable "Use subpixel positioning to smooth fonts on screen" option, click OK to save the settings and restart the program. It should fix your problems.[via]