Location Aware Browsing is not a new feature; most of the new browsers now support this feature, and many websites use this to identify your geographical location to modify their site content to suit your location. However, you can disable this feature very easily in your browser.
How browsers collect your physical location?
"Browsers use Google Location Services for this by sending your computer's IP address, information about near by wireless access points and a Random client identifier that is assigned by Google, which will expire in every 2 weeks".
If you are concerned more about your privacy, you can tell Internet Explorer not to send this information to any web site, just by switching off the feature. To turn off this feature, just follow as described below.
In Windows 7, go to Control Panel – Network and Sharing – Internet Options – Privacy tab.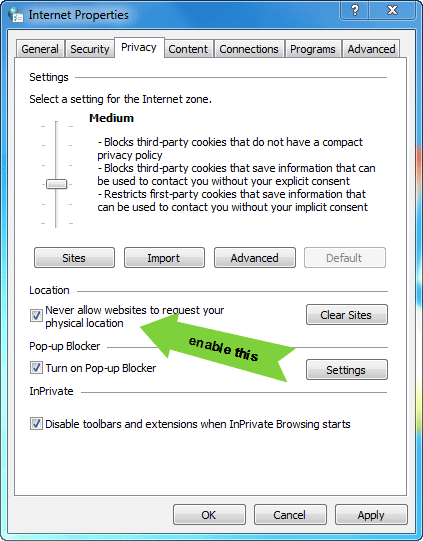 Now, check the box against 'Never allow web sites to request your physical location' (see screenshot above for details) and click OK to save the settings.
Hope the above simple tutorial will help you safeguard your privacy a little bit.