Cyanogen team has released the Cyanogen OS 12.1 (Android 5.1.1) update for OnePlus One. The OTA (over-the-air) notification for the update will arrive on your device soon. If you are running on the most recent Cyanogen OS 12, you can install the OTA update manually or via recovery.
The new Cyanogen OS 12.1 (build: YOG4PAS1N0) update brings the latest Android 5.1.1 Lollipop on OnePlus One and includes patches for the recently discovered critical security issues. The update will fix many bugs that were found in the previous build, bring new features and performance enhancements to OnePlus One.
If you cannot wait for the OTA update to arrive on your phone and want to taste the new Android 5.1.1 right now, read on to know how to install the OTA update or the full firmware manually.
Warning: Follow the guide at your own risk. We will not be responsible for any damage that occurs. The guide is intended for technically talented users only.
How to Install Cyanogen OS 12.1 OTA Update manually
1. Download the OTA zip file (cm-12.1-YOG4PAS1N0-bacon-signed.zip) [HERE] and put it on your OnePlus One.
2. Boot into stock recovery mode, select Apply update and choose the OTA zip file.
3. Once the installation process is completed, wipe cache, dalvik cache and the rebbot.
How to Install Cyanogen OS 12.1 Full ROM on OnePlus One via fastboot
Note: As the below method wipe your device completely, backup any data on your phone before proceeding.
It requires ADB and fastboot driver installed on your PC (refer this guide). Also, install proper driver for OnePlus One.
1. Download Cyanogen OS 12.1 fastboot file (cm-12.1-YOG4PAS1N0-bacon-signed-fastboot.zip) [HERE] and unzip the zip file in a folder.
2. Copy all the extracted firmware files and paste them into ADB folder. From ADB folder, open a command window (Press shift key, right click and select 'Open command window here' option)
3. Now, boot your OnePlus One into fastboot mode. To do so, disconnect the phone from the PC (if connected), then power off it, and then press and hold Power and Volume Up button together for few seconds.
4. If you have not unlocked the bootloader of your OnePlus One, do that (refer this guide). If everything is ok, follow below steps.
5. Issue the below commands one by one:
fastboot flash modem NON-HLOS.bin
fastboot flash recovery recovery.img
fastboot flash sbl1 sbl1.mbn
fastboot flash dbi sdi.mbn
fastboot flash rpm rpm.mbn
fastboot flash aboot emmc_appsboot.mbn
fastboot flash tz tz.mbn
fastboot flash LOGO logo.bin
fastboot flash oppostanvbk static_nvbk.bin
fastboot flash boot boot.img
fastboot flash cache cache.img
fastboot flash system system.img

6. Now, issue the below command if yours is a 16GB OnePlus One
fastboot flash userdata userdata.img
If yours is a 64GB OnePlus One, issue the below command:
fastboot flash userdata userdata_64G.img
7. Onece the process is completed, issue the below command to reboot your phone.
fastboot reboot
It will take longer time for the first boot. Your OnePlus One will be now running on the latest Android 5.1.1. Enjoy!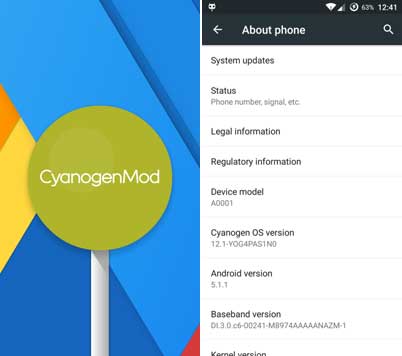 Any question, ask it in the comment section below. (Source – Androidolice)