In this guide, we show you how to check if your Android phone is vulnerable to the recent MMS messaging vulnerability called StageFright. Google has already released an update for its Nexus range of devices to fix the libStageFright issues, but most other devices not to be patched for the vulnerability up until now. It will take more times to reach the patch on all devices.
Recently, we have published a way to secure your phone from StageFright MMS messaging vulnerability (Read here), however if you have suspected that your phone is vulnerable with StageFright, read on to know how to check it with 'Stagefright detector' app.
For your information, StageFright is a serious MMS (Multimedia Messaging Service) messaging vulnerability that enables a hacker to enter into your phone using a specifically crafted MMS message. Once entered into your phone, hacker can steal your important data, accounts and passwords.
The 'Stagefright detector' app by Zimperium lets you test if your device is vulnerable to libStageFright issues. Read on to know how to use the app.
1. Download 'Stagefright detector' app from Play store [HERE]
2. Launch the app and tap on 'Begin analysis' button to start the scan.
3. Within a few seconds, the app will display whether your phone is vulnerable to Stagefright or not.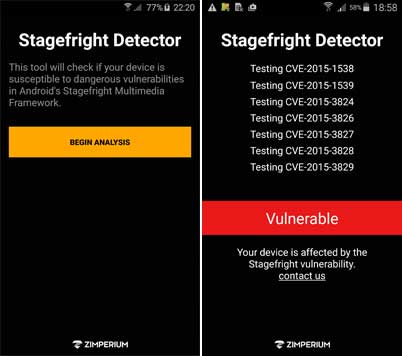 Please note that the 'Stagefright detector' app only checks for MMS vulnerability. It will not fix your issue in any way (Source)