Activate New Interface In Chrome 29 On Search Page And New Tab page
Just recently, Google Chrome has updated to version 29 with new features such as Reset to default (helps you to restore your Chrome back to its original state) and a smarter Omnibox suggestions. Chrome 29 has also an experimental new interface on search page and new tab page.
If you enabled the experimental "Enable Instant Extended API" option, you will get a new interface on Google search page, which is somewhat different from what we usually see. Moreover, the new tab page has also changed to a simplified Google homepage. Also you can see a new share button.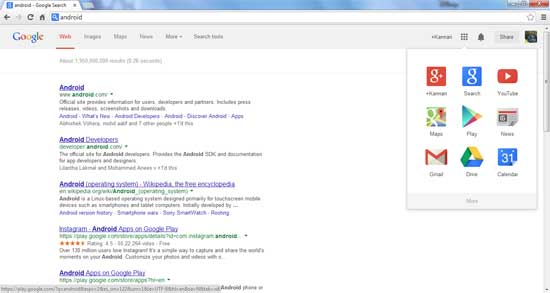 A major change in this experimental interface of Chrome 29 is the disappearance of search box on search results page. In addition, the top black navigation bar has replaced with App Launcher button. You can access Google services by clicking the App Launcher button.
To enable the new experimental interface and new tab page, type chrome://flags in the address bar and hit Enter.
Scroll down and locate "Enable Instant Extended API" (use Ctrl+F to search for Enable Instant Extended API) and change its value Default to Enabled. Then click "Relaunch now" at the bottom of the page to restart Chrome.
To disable this feature, use the same instructions, but click "Disabled" instead of "Enabled". [Via]