IObit Smart Defrag Server 2010 is an advanced tool for Windows Servers that will help you to improve the server working stabilities and optimizes its performance by securely packing fragmented files together automatically, no need to get involved. The new Smart Defrag Server 2010 supports Windows Server 2008, 2003 and Server 2000.
Key benefits of IObit Smart Defrag Server 2010:
Server Disk Optimization
Automatic Server Defragmentation
Works with Efficiency
Flexible Scheduling and Defragmentation
Keeps on Working While Defragmenting
Windows Server Operating System Optimization
Virtualization Optimization
IObit Smart Defrag Server 2010 normally costs $199.5. To get a free copy, visit here.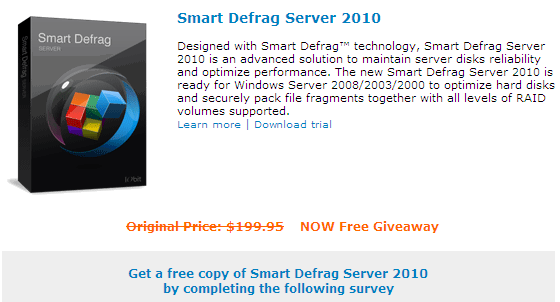 Note: Smart Defrag Server 2010 is not intended for home users. It's useful for IT professionals and system administrators for Server disk optimization.