Cut the Rope, the most popular physics-based fun game for iPhone and Android, is now available for big screens as well as big audience. The creator of the game ZeptoLab partnered with Microsoft's Internet Explorer team has launched a web version (HTML5 version) of this game that you can play on your web browser.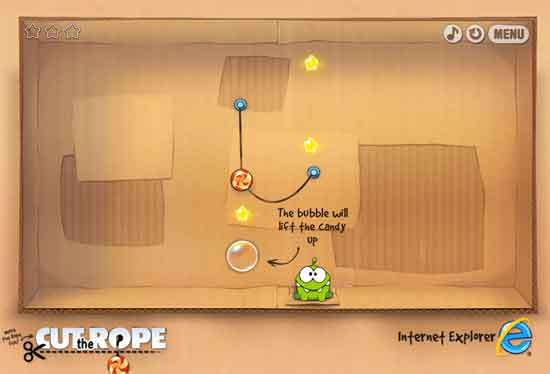 The HTML5 version of this game, which is ported from the original iOS source code, highlights some of the best that HTML5 has to offer such as canvas-rendered graphics, browser-based audio and video, CSS3 styling and the personality of WOFF fonts.
Microsoft launched this project as an initiative to promote Internet Explorer 9 that, as you know, supports all new web technologies. Cut the Rope runs in any browser that supports HTML 5 including Internet Explorer 9. You can read more on this subject at here.
You can play the HTML5 version of Cut the Rope free at here. (Via)