Snapdragon BatteryGuru Extend Battery Life of Snapdragon Powered Android Device
Battery life continues to be one of the biggest concerns for android users. There are many simple ways you can improve on it like reducing brightness, reducing the number of apps syncing in the background, switching off 3G or 4G when in area of limited coverage, etc. and there are several apps to tweak your Android phone to extend its battery life. Here is a battery lifesaver app specially designed for Snapdragon powered smartphones.
Called Snapdragon BatteryGuru, this battery saver app by Qualcomm automatically learns how you use your device and reduce unnecessary background activities to save battery. As you may know, many features of your device are always on, even when you are not using them, which will reduce the battery life.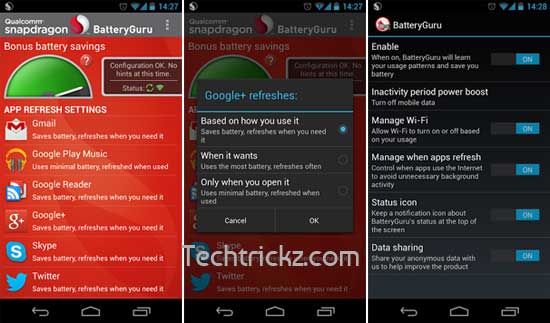 This app learns your behaviors and then notifies you that it is ready to extend the battery life and improve the experience. It requires no user configuration; it works in the background, automatically learns your behaviors and adjusts the settings.
As you may know, Qualcomm's mobile processor Snapdragon have been used in the vast majority of the most notable smartphones such as Samsung, HTC, Sony Xperia, etc. around the world.
Snapdragon BatteryGuru battery saver app supports a majority of Snapdragon powered devices and more devices will support in the future.
You can download Snapdragon BatteryGuru battery saver app from Play Store