Firefox 4 final version is on the way and the first beta version has been officially released for downloading for Windows, Mac and Linux (English language only).
The new beta (1) version has a number of performance improvements over its previous versions and an eye-catching look.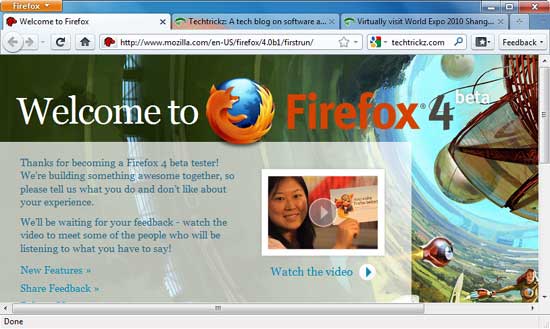 Following are the major features of Firefox 4 (beta 1):
Tabs are on top: As in Opera the default tab position has been moved to top and Menu bar replaced with Firefox button (in Windows Vista/7).
New Add-on manager and extensions manager have been added
Stop and reload buttons have been merged into single button as part of UI enhancements on Windows , Mac and Linux
Bookmarks toolbar has been replaced with Bookmarks button by default.
Crash protection: Enables interrupted browsing when a plug-in crashes. You can resume browsing by simply refreshing the page.
Full WebGL support has been added and disabled by default at this time
HD Video: Native support for HD HTML5 WebM video format.
An experimental Direct2D rendering backend available on windows turned off by default.
Support for more HTML5 form controls.
More details available at release note page. You can download Firefox 4 (beta 1) from here and a portable edition of beta 1 from here.