There is no doubt that fast typing on laptop with touchpad is a pain. Touchpad is generally located right under the hands, so there are chances for accidental touching your hand on touchpad, which may change the cursor position in your document or click on an option that you don't need.
Of course, you can manually disable touchpad, but a small utility called Touchpad Blocker helps you differently. The software helps the user to type text as fast as possible by locking mouse events during a small period after any keys were pressed.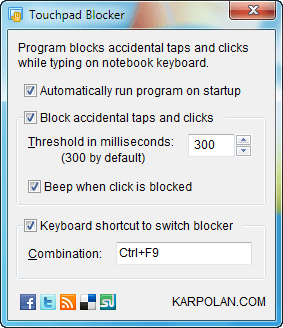 Touchpad Blocker is a must have software for notebook owners who prefer to use touchpad instead of mouse or other pointing devices.
You can download Touchpad Blocker at source (supports Any 32 or 64 bit version Windows)