Swype Like Keyboard For Windows 8 Tablet PCs
If you are an iPhone, Android or Nokia phone user, you may have familiar with Swype keyboard. Swype is a QWERTY keyboard for touchscreens that can greatly speed up the text typing process – only need to move (swype) your fingers or stylus across virtual letters to form text. Swype keyboard currently not available for Windows 8 Tablet PCs, however, you can enable Swype like keyboard feature in Windows 8 with InScribe.

Because Windows 8 has been designed with Tablet PC in mind, it comes with a nice virtual onscreen keyboard with useful features like auto-complete text, but doesn't have swype like feature. InScribe enable this.
InScribe is a free, virtual keyboard designed for Tablet PCs and UMPCs and has several features to enhance your text typing process. However, it is not as perfect as Swype and lacks features like word suggestions, autocorrect misspelled words, etc.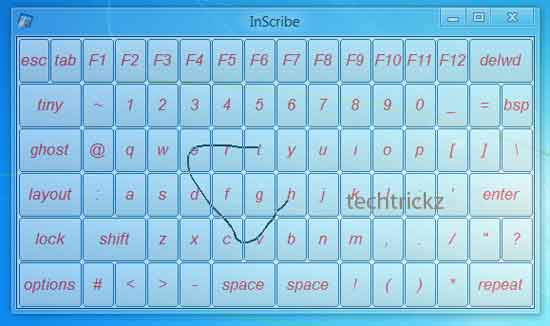 Features and usage of InScribe (v.2.0):
Download and install InScribe. When it running, there is an InScribe icon in the system tray. Tap this icon to show and hide the keyboard. You can make your keyboard bigger or smaller by dragging the keyboard borders.
From the Options menu, you can change how transparent your keyboard is, select the font type and color that displays on the keys, and make other adjustments to the appearance.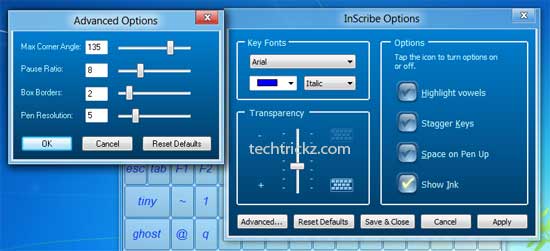 You can switch to different keyboard layouts by either selecting the Choose Layout pick from the menu or by tapping the Layout key on your InScribe keyboard. Moreover, you can design your own layouts using the Layout Designer option.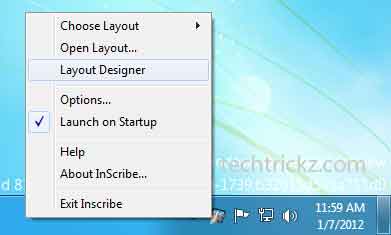 Verdict: Though the title of this article is Swype like keyboard for Windows 8 Tablet PCs, InScribe is not as perfect as Swype. It doesn't have text suggestion and auto-correct features. Moreover, its interface (GUI) is not attractive.
You can download (2.4 MB) InScribe from the developer's website here. (via)