If you're a regular Skype user, probably you might have wanted to record your Skype conversation for both personal and professional uses. For example, if we are talking about our business or work with a partner, the best way to remember all the discussions is recording the call. There are a number of ways to record your Skype conversation for free, although there are also a few catches. The free open-source application Skype Auto Recorder lets you record chats in high-quality MP3 with variable bitrates.
As its name means, Skype Auto Recorder provides a silent automatic recording of Skype conversations from any contact or group of contacts you choose. Unlike other similar applications, this program does not limit your recording.
Skype Auto Recorder is easy to configure and use. It doesn't require any action after the initial configuration. You can filter contacts for recording and save records at different places and file name depending on contact names.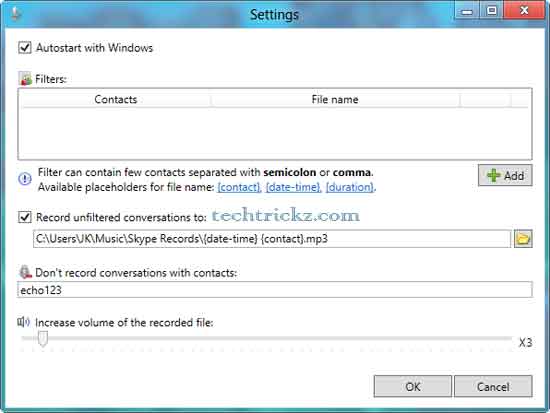 To configure Skype Auto Recorder, after installation, right click on its tray icon and select Settings to open the setting window.
From the settings window, you can add contacts that you want to record chats, set the location for saving the conversation, and enter the contacts that you don't want to record conversation.
Also, you can increase the volume of recorded MP3 file, which will be useful when your partner has low microphone. Note, that too high increasing may corrupt sound.
Skype Auto Recorder can be downloaded from developer's webpage here. Read here to get detailed configuration procedure.